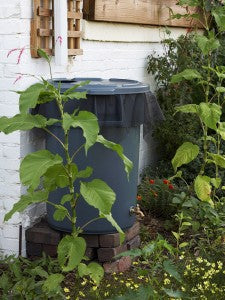 If California's (no) water situation seems to be taking up a lot of our attention, it's because certain circumstances, while unfortunate, provide us opportunities to talk about good preparedness practices that may otherwise slip off our radar.
Here's a pretty cool example. In response to record low precipitation levels, some Southern California cities have implemented what they're calling "no-brainer, low-hanging fruit solution[s]" for water independence—policies and projects geared to reclaiming and recycling local water.
An ABC News story from earlier this month describes the rainwater collection system that waters the Santa Monica city library's extensive gardens, as well as the water recycling plant near the famous pier that supplies irrigation to several local parks and schools.
And individuals are catching on. The same article calls resident Josephine Miller's 205 gallon rain barrel "fashionable," as neighborhoods dive in to take advantage of local government rebates for home water conservation. While your city hall may not pay you for your efforts, rainwater storage makes efficient use of one of the few free resources at our disposal. Just make sure it's legal to do so in your city or state, first.
So, if you're interested in harnessing some May showers for yourself, here are a handful of tips, tutorials, and helpful products.
Here's wishing you a happy and drippy spring!
–Stacey
Photo Courtesy of Better Homes and Gardens