Fred Ullrich was with his Boy Scouts when the tornado blew through their camp in June, 2008.
Using the only shelter they had – a small cabin – Ullrich helped his boys take cover. Within minutes the tornado was at their door. Their cabin was destroyed, and many other nearby structures suffered a similar fate. 48 of the boys were injured. Four were killed.
Once the tornado was gone, those leaders and boys that weren't injured went straight to work. They patched up and bound wounds, and according to Popular Mechanics, even "organized an on-the-spot triage center, helping to prepare the most seriously injured for their journey to the hospital."
The Boy Scout's motto is "Be Prepared." True to those words, these Boy Scouts were as prepared as they could be.
The night before the tornado, the Boy Scouts had gone through a first aid drill. Of course, it would take more than a few drills to really have that crucial information sink in and stay with them for such an emergency. So what made them so quick to think and act during this crisis? You may have already guessed the answer: they practiced. They must have gone over those drills numerous times, helping those skills stay at the forefront of their mind should such a scenario arise.
And arise it did.
During a crisis, your brain is going to revert to what it knows. That's why it's vitally important to practice being prepared and fill your brain with those things it needs during an emergency. These Boy Scouts are just one example –in just one area of preparedness – of how practicing survival scenarios can really impact their survival instincts for the better.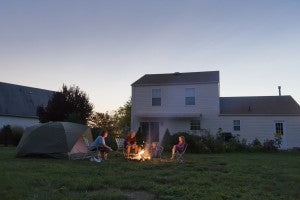 This example of preparedness is one we should all follow. It can be more than just first aid, too. There are less life-threatening areas in which you can prepare, such as what you would do without power or water. Another way you can practice you preparedness is by taking a camping trip, even as far away as you back yard. Do you have the tools and gear necessary to make camping your go-to survival home? The backyard is the perfect place to practice, because if you realize you're not as ready as you thought you were…you can always go in and retrieve what you need. But then remember to fix that issue as soon as you can!
And that's exactly what practicing is for. It's for learning what you do have, and what you still need to work on. It's for teaching your brain that this is normal, so that if you are forced to live out of your tent for an extended period of time, cooking on your portable stove will be second nature to you. You won't think twice about how to take care of yourself – and your family – in the wild.
Although it's quite unlikely you'll ever know the precise moment a tornado or other disaster will strike, just knowing how to react during those situations can save not just your life, but those around you as well. The Boy Scouts didn't know a tornado was about to devastate their camp, but because they had practiced, they were prepared to take care of the wounded nonetheless.
I challenge you to take some time this month to practice your preparedness. Go on a backyard camp, using only your emergency gear. Or, bust open a can of freeze-dried food and make sure you know how to properly prepare it. There are so many ways to practice. Find an area that you want to try out, and go for it! Don't forget to take pictures and upload them to our Facebook page!

Additional Reading:
Why You Need to Practice Your Prep: beprepared.com/blog/18307/need-practice-preparedness/?sc=BLOG&oc=BP0617
Go Dark For a Day: beprepared.com/blog/18288/go-dark-for-a-day/?sc=BLOG&oc=BP0617
Your Outdoor Gear Is Your Survival Gear: beprepared.com/blog/18297/outdoor-gear-survival-gear/?sc=BLOG&oc=BP0617