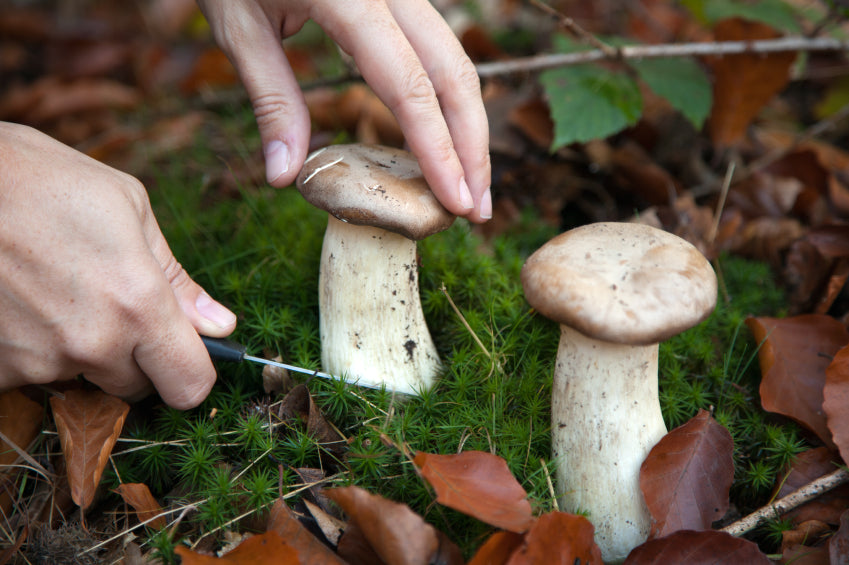 Learning to forage for edible plants is just as important to your survival as knowing how to build a snare or trap. If you're lost in the wild without an emergency food supply, foraging can act as a temporary solution to give you the energy and strength you need to survive as you wait for rescuers. Why foraging? We obviously think food storage is important, and you can really get a balanced, nutritious, and awesome menu just from food storage. But hey, if you're up for the adventure and you're careful to look for the right foods, you can use foraging to bring some new, different flavors to the table—not to mention some lettuce, which simply doesn't do well as a food storage item (spinach and cabbage being the obvious—and delicious—exceptions).
Foraging Rules
If you're new to foraging, you'll want to establish some rules before you start looking for edible plants. For example, most people know that some mushrooms can be poisonous, so one of your rules might be to
stay away
from
all
mushrooms if you don't know what's poisonous and what's not. Foraging rules will keep you healthy and safe if you have to Replace wild plants to eat. Here are a couple of rules to get you started. Once you start foraging, you can add more of your own.
Never eat anything if you're not 100% sure of what it is.
Be careful of where you forage (make sure you know the landscape, holes, threats, rivers, etc.).
Stick with a few items you're familiar with rather than spending hours searching for new plant species that might be dangerous.
Memorize a few different types of edible plants common to your area (grasses are common enough plants to most areas, so if you get lost in the woods out of your home state, you know that grass is one plant you can count on.)
Consult a field guide for preparation and cooking instructions for the plants (what if there's a part of the plant that is inedible? You'll want to know what to cut off and what to keep).
Watch out for animals.
Let someone know where you're going before you go out foraging.
Some of these rules might apply more once you know what to look for, but it's good to have a couple of rules in mind before you go.
Areas to Look for Edible Plants
Since many edible plants are classified as weeds you can start looking for plants in your lawn or other areas that are regularly cleared like parks and fields. Also, depending on the region of the United States you live in, edible plants will grow in different areas of the landscape. Generally, in humid regions, most of your edible plants will be found in a sunny area or clearing. In drier climates, your wild plants will be found near water sources. Also, if you're out in the woods or an unknown place, look for plants that are growing in abundance. Stay away from plants that you may only see one or two of in the area. If a plant is growing in large abundance, it is more likely to be non-toxic and edible. However, before eating that plant,
always
perform the
universal edibility test
(a test to determine if a plant will make you sick or not) on any plants you are not 100% sure of. For a more detailed guide of where to Replace plants, you can purchase a plant guide specific to your state. Also,
The Sense of Survival
gives great tips about Replaceing and preparing edible plants.
How to Avoid Deadly Plants
The Art of Manliness
gives eight features of poisonous plants to watch out for:
Milky or discolored sap
Spines, fine hairs, or thorns
Beans, bulbs, or seeds inside pods
Bitter or soapy taste
Dill, carrot, parsnip, or parsley-like foliage
"Almond" scent in the woody parts and leaves
Grain heads with pink, purplish, or black spurs
Three-leaved growth pattern
Warning:
The tricky thing about edible plants is that a lot of them have similar characteristics to poisonous ones, but they are still edible. Some plants even have parts that are ok to eat and other parts that are toxic. This is why it's important to have a field guide to identify plants. If you Replace a plant you think is edible but aren't sure, you can test whether it's poisonous or not by performing the
Universal Edibility Test
.
5 Edible Plants to Know
Dandelion:
Flower, leaves, stem, and root are all edible. Flowers taste best as a bud or at a barely-open stage in salads or sautéed in butter. The leaves (best young, in early spring) are highly nutritious, good in salads or stir-fry. The root (best in winter) needs to be parboiled (partially cooked in boiling water), then drained and boiled again until tender.
Grasses
: all grasses are edible, but it's best to chew the leaves, swallow the juice, and spit out the tough fibers. Where the base of the leaves meets the root, there's a small, white part called the corm, which can be roasted and eaten like potatoes.
Cattails:
the roots, shoots, and pollen heads are edible. For tips on eating cattail pollen, check out these great tips from the
"Hunger and Thirst" Blog
.
GooseFoot:
belongs to the same family as spinach, chard, and beets. The leaves of such varieties as "Lamb's Quarters" are gathered and cooked as a vegetable. The seeds are called "quinoa," a gluten-free grain-alternative quickly increasing in popularity as a cereal, side dish, or bread ingredient.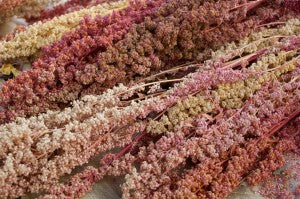 Prickly Pear:
this cactus-like plant grows from one to eight feet in height, and needs warm, dry, rocky soil. The pads resemble thick leaves and bear tufts of tiny, barbed bristles that are hard to see and harder to remove from the skin, so approach this plant with gloves and tongs! Using tongs, swish the fruit in water to remove the spines, and then carefully remove any remaining ones with a knife or peeler. The pads can be sliced and cooked for a vegetable (Nopalitos). The nutritious fruit can be used to make nectar, juice, jelly, candy, or pie. The branches can be roasted and peeled to get to edible pulp inside, and the seeds, parched and pulverized, are a good thickening agent.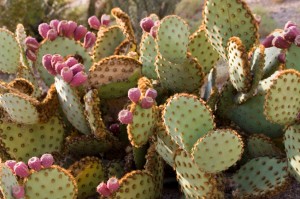 These are just five edible plants you can Replace in the wild to get you started. Happy foraging!
What are some other edible plants you've found? Any other safety tips you'd like to share?
Sources
Universal Edibility test:
http://adventure.howstuffworks.com/universal-edibility-test.htm
http://www.artofmanliness.com/2010/10/06/surviving-in-the-wild-19-common-edible-plants/
http://www.wikihow.com/Replace-Wild-Edible-Plants
www.preparednessadvice.com
http://hungerandthirstforlife.blogspot.com/2010/06/wild-about-cattail-pollen.html
http://www.tacticalintelligence.net/blog/the-fantastic-four-4-essential-wild-edible-plants-that-may-one-day-just-save-your-life.htm