Thirsty? You're probably pretty used to just turning on the tap. But three incidents from last month remind us that taking our water for granted can land us in serious hot…well, water. In Winnipeg, tests came up positive for E. Coli in parts of the city's water supply. That same week, a diesel spill in Lewisburg, West Virginia, shut down the city's water system in an effort to prevent widespread supply contamination. And in Bladensburg, Maryland, an underground water pipe split, causing a sinkhole large enough to flood homes and swallow cars.
Solutions to these problems ranged from a mayor appearing on YouTube and advising his citizens to boil their water, to a local restaurateur deciding, "We are going to limit our menu frankly to things that don't require very much water."
Water purification and filtration should definitely be a priority, when it comes to emergency preparedness (check out our water filters and purification systems here!). And it wouldn't hurt to have a repertoire of meals that don't require boiling water (MREs, anyone?). But one standard prepper practice would make life considerably easier in a similar disaster.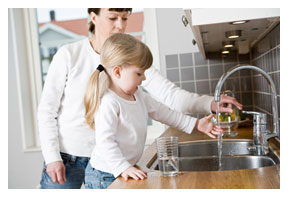 That's right. I'm talking water storage.
If that tap that you turn on a hundred times a day still works, then storing water can be easy and free. Just be sure that you follow credible recommendations to make sure the water you store is safe to use. Both the CDC and Ready.gov provide handy tip sheets on water storage. Here are a few of considerations highlighted there:
How much water should I store?
The recommended amount is a gallon of water per person per day. Keep in mind that some factors may require storing more (hot weather, children or nursing mothers, etc.), and don't forget to figure pets into your calculations!
To go along with your 72-hour emergency supply kit, plan on storing at least three days worth of water for each person in your home.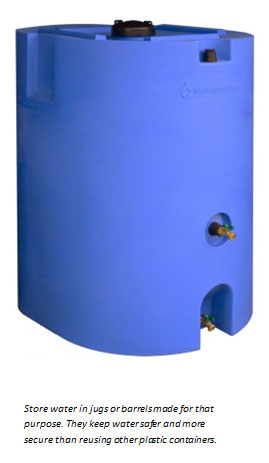 How should I store it?
Commercially purchased and sealed water supplies, like our cans and pouches, are the best way to store water, hands down.
To supplement store bought water, you can also store your own tap water in clean containers. Don't use empty milk jugs, fruit juice containers, or anything that ever contained chemicals. Do use two liter soda bottles or dedicated water jugs and barrels.
Wash used containers with soap, sanitize with diluted bleach, and let them dry completely before filling them.
What should I do with my stored water?
Keep purification tablets, like our Katadyn Micropur purification tablets, on hand, especially if the bottles haven't been bleached.
Label the bottles clearly with the date and "drinking water."
Store somewhere away from light and high temperatures.
Rotate stored tap water every six months.
Of course, we hope that the tap keeps working the way it's supposed to. But it's a smart idea to prepare for every contingency. Let us know how you're doing on your water storage!