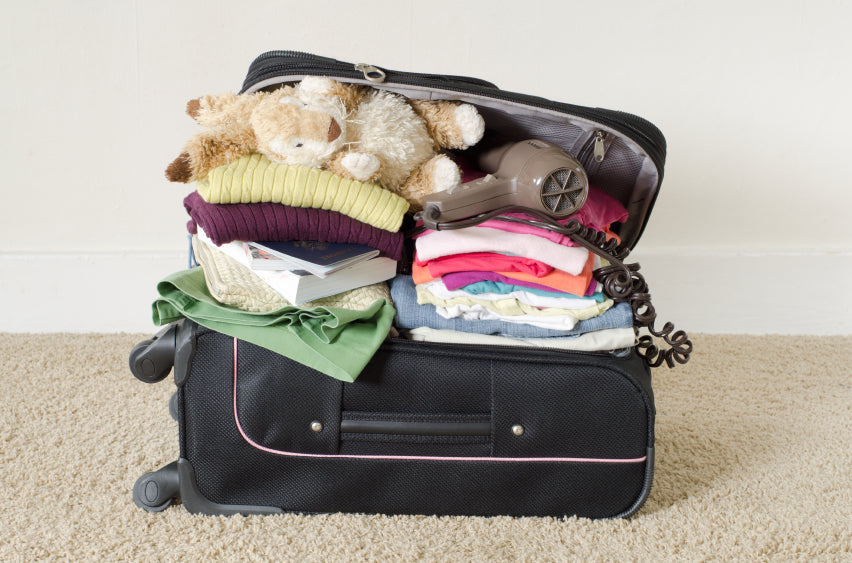 At some point in our lives, many of us have been subject to Murphy's Law of Travel—what can go wrong, will go wrong. And often we're too excited, stressed, or concerned with getting the car or suitcase packed that we may forget to prepare for any unexpected emergencies we may face while traveling. Just like preparing for an emergency at home, work, or school, it's equally important to prepare for travel emergencies. So here are our top 10 Travel Preparedness and Safety Tips:
1. Tell someone you trust where you're going
If you've seen the movie
Taken,
you'll know that telling someone where you're going and any change of plans you might make can ensure your safety. Whether you're traveling solo or as a family, make sure you:
Always tell friends, family, or those picking you up from the station or airport your travel routes and schedules.
Always tell friends, family, or those picking you up from the station or airport any delays or changes to your travel plans.
If you take short cuts or alternative routes while driving, inform someone of these changes.
It's nice to be friendly with other travelers, but DO NOT give out extensive information about your travel plans to strangers.
Give your trusted friend an itinerary of your daily plans. If your plans change, let your friend know.
2. Don't forget to your . . .
First Aid Kit--include medicines for stomachaches, diarrhea, headaches, and motion sickness
Hygiene Kit-- to keep in your carry-on bag just in case your luggage gets lost or you get stuck in a place where you'll need these items
Emergency Car Kit--a great idea to stick in your car or rental car in case you have some type of emergency while on the road. Make sure to pack a car emergency kit. The article, "Emergency Kits Tackle Unepxected Problems on the Road," gives some great advice on what types of items to include in your car emergency kit.
Small Emergency Kit or Survival Pack like the SOL Origin bring with you in a daypack or backpack if you plan on going hiking or doing another high adventure day trip
Emergency Food--Calorie Food Bars can last even in extreme temperatures making them great for car travel
Important Medications
Child Care Items
Extra Clothing
Travel Documents--passport, tickets, I.D., etc.
3. Know what to do if you get sick
If you got VERY sick or injured in another state or another country, where would you go for help? What would you do?
Before:
make sure your health insurance coverage will cover you in other states (you may want to look into getting traveler's insurance that will cover medical emergencies)
During:
See a Doctor
right away
! If you have:
Diarrhea and a high fever (102 degrees or above)
Bloody diarrhea
Flu-like symptoms (especially in countries with diseases like Malaria)
If you've been bitten or scratched by an animal
Been seriously injured (broken bones, gashes, large cuts, or wounds, etc.)
Been sexually assaulted
Been in a car accident
For more tips on what to do if you get sick on an airplane, car ride, cruise, or during international travel, check out the Center of Disease Control's (CDC) article, "
Know What to do if You Get Sick or Injured on a Trip
."
4. Be aware of your surroundings
Learn about your destination before you go there—the people, the place you will be staying, the culture of the area, etc.
Secure your belongings: make sure you have your purse or daypack with you and positioned on your body so that others cannot get into it. And be aware of what's going on around you so you don't get stuck in an unsafe situation. Report any suspicious behavior.
5. Pack smart
Make sure to pack light so you can keep your hands free and move quickly if you have to.
Store your passport, I.D., cash, and other important documents in different places. You may want to store your credit cards in a money pouch, and some cash in your front pockets, etc. That way if one item is stolen, everything isn't lost with it.
Keep at least one change of clothes with you in your carry-on or daypack if your luggage will be stored in a separate compartment.
Bring a water filtration/purification method with you, like a Katadyn MyBottle if you are in a country where the water is not safe to drink.
6. Read up on transportation companies before booking
Several cruise ships have "report cards" issued through the Vessel Sanitation Program of the CDC. This program inspects the cleanliness, repair, food preparation, water quality, hygiene, and pest management of the vessels. You can Replace these report cards on the CDC website before you book your cruise. Also, check into reviews of airlines, bus companies, etc. because, as we all know, some perform better than others at getting you where you need to be on time.
7. Get a maintenance check on your car before travel
Make sure your gas tank is always half full
Make sure your lights are in good working order (especially if traveling at night)
Make sure your car has gone through any passed and safety or emissions tests required by your state
Repair any issues with brakes and replace tires with low tread
8. Follow the rules of the road
Observe the speed limit, buckle up, give your full attention to the road (DO NOT drive while impaired), and be respectful to other motorist. Also, if you experience car trouble pull over to the side of the road. Basically, to ensure your safety, follow the rules you were taught when you passed your driving test.
9. Be familiar with safety and emergency evacuation procedures
for the hotel you're staying in and for the mode of transportation you've chosen. Read up on them before you go, or ask for a copy before boarding the vehicle or while checking into the hotel.
10. Learn which weather disasters are common to your destination
Read up on the types of disasters common to the area where you'll stay, especially if you've never experienced those types of emergencies before. Replace out about local radio systems and emergency alerts. Know where you can go for safety. Pay attention to weather forecasts for your destination. Downloading a
Red Cross Mobile app
to your phone can also help you prepare for and be aware of emergencies in the area. In case an emergency occurs while you're in a different country, know how to contact the U.S. Embassy or Consulate before you leave home by using the U.S. Passports and International Travel's
Country Specific Information Pages
Happy and Safe Travels!
For more safety tips, check out these sources:
http://wwwnc.cdc.gov/travel/page/sick-during-trip
http://www.redcross.org/prepare/disaster/highway-safety
http://wwwnc.cdc.gov/travel/yellowbook/2014/chapter-2-the-pre-travel-consultation/obtaining-health-care-abroad-for-the-ill-traveler
http://www.nbcnews.com/id/9546629/ns/travel-cruise_travel/t/tips-cruise-safety/#.UxS74_ldWuI
http://www.aarp.org/travel/cruises/info-05-2012/cruise-ship-trip-safety.html
http://theplanetd.com/night-bus-travel-11-tips-for-safety-survival-and-sleep/
http://www.aarp.org/travel/travel-tips/info-09-2012/single-trip-safety-tips-theft.2.html