[caption id="attachment_20115" align="alignright" width="300"]
Note: Several reports of the same tornado may be plotted on this map - image via NOAA[/caption] Tornado season is generally thought of as a spring thing. Historically, tornadoes are a
rare sighting before those spring months
. This last week, however, has seen
13 confirmed February tornadoes
, with more confirmations likely to emerge as surveys continue. More tornado watches are in effect for some Eastern states, including North Carolina, Virginia, and Maryland. March through June tends to be the busiest months for tornadoes, as illustrated in the graphic below. But what about February tornadoes? Looking at that image again, it show just how rare February tornadoes are. Although they are rare, the folks at US Tornadoes determined the annual average February tornadoes we can expect are
between two and three dozen
. At its peak, that may seem like a lot of tornadoes, but when you think about it, the low end is only two, which is just an average as well. Still, February is generally considered a quiet month for tornadoes. [caption id="attachment_20116" align="aligncenter" width="583"]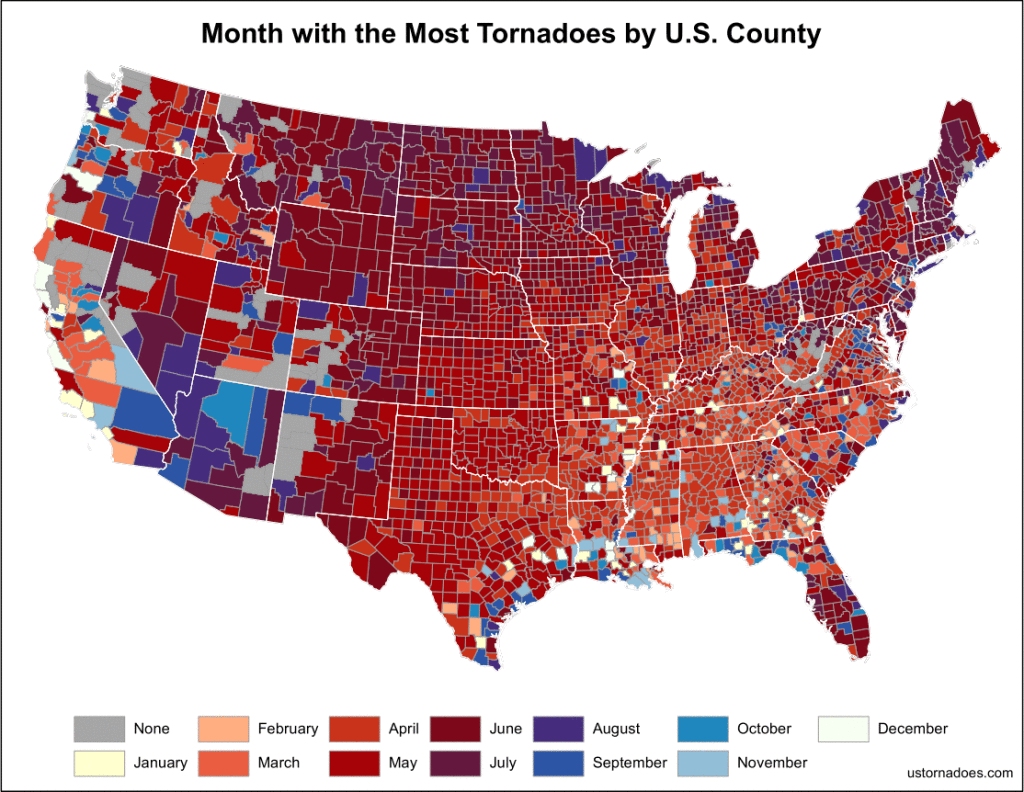 Image via US Tornadoes[/caption] When it comes to scheduling disasters within a specific time frame, that's something we just can't do accurately. Sure, we can deduce when the busiest months are for certain disasters, but as we see in this scenario with 13 confirmed tornadoes in just 24 hours, they will come when we aren't expecting them. Once we receive a tornado warning, we have mere minutes to get to a safe location. That's not very much, especially if all our emergency gear is strewn all over various rooms of the house. So how does one go about preparing for a tornado? Start by following these three steps from
Ready.gov
:
Build an emergency kit
Having an emergency kit packed and ready will safe you precious minutes packing up last minute supplies. Instead of running around trying to Replace what you need, just grab your bag on your way out and be confident that everything you need is right in your hands.
Listen for Radio Updates
NOAA Weather Radio and commercial radio and television newscasts will give you all the latest information and developments regarding severe weather. When instruction is given by local officials, be sure to follow their council.
Look for Signs of Approaching Storms
Dark, greenish skies and large hail is one red flag that a tornado could form. Large and low-lying clouds (especially rotating clouds) are also cause for concern. When a storm approaches, make sure to take shelter immediately. Tornadoes can form very quickly, leaving you without much – or any – warning. Don't think you can outrun one or stand outside watching if it looks to be going the other direction. Tornadoes can change direction without notice, and can travel very quickly. Tornadoes can even form at night, which makes those especially dangerous since it is dark, and most people are sleeping and unaware of the danger. We've seen a lot of tornadoes this week alone, with more predicted to come. Even if there is no tornado present, strong winds can still wreak havoc on property and be a threat to lives. Take caution during any storm, and when you do get the watch or warning for a tornado, be extra vigilant and act immediately. For more information on tornado preparedness, visit
www.beprepared.com/tornado-preparedness