[caption id="attachment_21331" align="alignright" width="300"]
Amatrice, a town in Italy, destroyed by the earthquake. Photo: Leggi il Firenzepost[/caption] Raise your hand if you're glad 2016 is about over. The year was so tumultuous that a
magnitude 6.2 earthquake
that killed at least 299 people in central Italy didn't even make most U.S. news organizations' lists of important events. (Neither did a magnitude-6.6 earthquake
on October 30
that destroyed more towns in the same area.) In this Year in Review, we look at some of the more devastating events that happened in 2016. Disaster declarations began early in the year. On January 5, the governor of Michigan declared a state of emergency in Flint, Mich., because of
lead-contaminated water
. It was a man-made disaster. In 2014, the city manager decided to switch the city's water supply to the Flint River. The more-corrosive water was not correctly treated and caused lead to leach out of thousands of miles of old pipes. After a year of cleanup, many Flint residents
still can't use tap water
. A
massive winter storm
hit eleven eastern states beginning January 22. It dumped more than 30 inches of snow on seven states, caused six tornadoes, affected 103 million people and killed 55. Damage estimates range from $500 million to $3 billion. A seemingly-mild virus carried by a tiny mosquito next took over global headlines. The World Health Organization declared the
Zika virus a Public Health Emergency of International Concern
on February 1. In most people, Zika causes few to no symptoms – maybe a mild rash or fever. However, in pregnant women, Zika can cause
microcephaly
other brain defects in their unborn children. The
first U.S. death from Zika
was announced April 1, and the
virus spread to Florida
in July. March brought the first of many terrorist attacks this year in a reminder to be vigilant even in seemingly safe places. On the 22
nd
,
two suicide bombers attacked the Brussels
, Belgium airport and a third attacked a Brussels Metro station.
Thirty-five people were killed
, including the three bombers, and at least 300 were injured.
More terror attacks brought violence
to France, Germany and
many other nations
. On April 3, the Panama Papers were released. More than 11 million documents showed, first, how the wealthy hide their money from taxes, and second, sent a reminder to protect your own information. Yahoo in July and December announced
two more security breaches
of 500 million and a billion accounts. [caption id="attachment_20471" align="alignright" width="225"]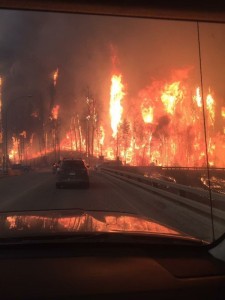 Wildfires raged in Fort McMurray, Alberta.[/caption] In May, 88,000 people fled a
wildfire in Fort McMurray
, Alberta, Canada. The fire caused the largest evacuation in Alberta history and destroyed about 2,400 buildings. It might be
Canada's costliest disaster
. In June, voters in the United Kingdom surprised everyone by voting to leave the European Union.
Brexit roiled financial markets
and served as a reminder that individual financial preparation is especially vital in a global economy. Even last year's El Nino was not enough to break California's staggering drought.
Wildfires raged through the parched state
in June and July. The Erskine fire alone killed two people and destroyed 285 homes. In all, the 2016 fire season saw almost 7,000 fires in California burn more than 565,000 acres and kill seven people. A July 30 flash flood in Maryland was only a
harbinger of flooding to come
. Massive storms across southern Louisiana in early August dumped more rain than Hurricane Katrina. Floods killed 13 people and caused $10-15 billion in damage. It was the
worst disaster since Hurricane Sandy
. And, oh, yes, there was a pretty
big earthquake in Italy
. In certain parts of the world, you expect certain things. You expect earthquakes in Italy and California. You expect tornadoes in Oklahoma. You expect hurricanes in Florida. Oh, wait.
Hurricane Hermine
, which made landfall in Florida September 2, was the first hurricane to hit the state in 11 years. It was a spitball compared with
Hurricane Matthew
, a category 5 monster that, in October, killed up to 1,600 people in Haiti and more throughout the Caribbean before making its final landfall in South Carolina. Damage is estimated at more than $10.5 billion. In November, some tiny country somewhere
rejected a divisive mainstream candidate
for a divisive outsider in its presidential election. Who knows what effect President-elect Donald Trump will have? Best be prepared for anything. Finally, December. And a Christmas winter storm that blasted through the central U.S. And don't forget
Super Typhoon Nock-ten
, which slammed the Philippines the same day. Or the magnitude
7.6 earthquake in southern Chile
that threatened a tsunami. May next year be a bit more peaceful for you, your family, and the world.