Water barrels are popular for long-term water storage, and there are a surprising number of options available.
Water containers vary in their size, color, shape, versatility, and quality. As people who have been in the business of water prep for a long time, here are the three things you need to know to make the right choices.

Accessories You Need
First thing's first: you'll need accessories to properly treat and access your water. These are items we consider essential:
A Pump – Made from food-safe materials for extracting water.
Water Purification Tablets – Either germicidal or chlorine dioxide
The Best Alternative to a Barrel
For many of us, storing massive barrels isn't an option.
If you're in an apartment or home with limited space, the Alexapure Pro countertop filter is a great way to access thousands of gallons of pure water, all with the convenience of a tap that works just like your kitchen sink.
1. Know the Best Size for Your Household
We have specifically chosen 15, 30, 55, and 160-gallon water barrels based on several criteria.
It is recommended by preparedness experts to have at least 14 gallons of water stored per person. This provides one gallon of water a day for two weeks.
A 

15

Gallon Water Barrel provides one person with this minimum amount.
A 

30

Gallon Water Barrel provides this minimum amount for two
A 

55

Gallon Water Barrel the minimum for four people
A 

160

gallon tank stores the minimum amount for about eleven people
2. Choose the Right Color Based on What You're Storing
Most people would think that blue would indicate water and it generally does. You may want to mark your barrel indicating "Water" so in case of a fire or similar natural disaster, emergency personnel know that water is being stored in it and not a flammable material.
Gasoline and other fuel should only be stored in red containers.
The blue barrel's dark color also restricts light and helps prevent algae growth. Cleaning and sanitizing helps prevent this too.
3. Quality Makes a Big Difference
Purchasing a quality water barrel is a wise investment. When choosing water storage containers remember that not all barrels are built the same.
The best water barrels are high quality, offering ultimate reliability and integrity. They should be manufactured with prime resin and FDA-approved, high-molecular-weight, high-density polyethylene. They should also be BPA free and UV coated to prevent light penetration.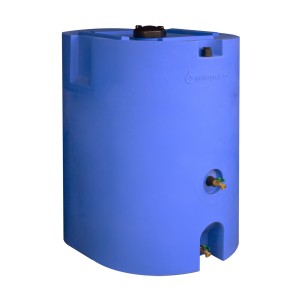 *160-gallon tank
BONUS: Tips You Need to Implement
Insulating Barrier. As a reminder, it is recommended not to store your filled water barrel directly on cement. It is wise to use an insulating barrier, such as wood, between the barrel and cement to prevent accidental absorption of concrete fumes or trapped stagnant odors.
Rotate Annually. It is recommended to rotate the water regularly (using a drinking water safe hose) especially if you aren't using potable water sources.
Water vs. Rain Barrels. Know the Difference. Please note that water barrels are for storing water and rain barrels are for collecting rainwater. Rain barrels are a great way to collect water for various uses, but rain barrels are not for long term storage of water for emergency use. Interested in learning more about rain barrels?
You can read up on their different uses here.