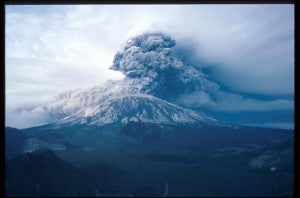 This month marks the anniversary of the eruption of Mount Saint Helens; a day Washingtonians still talk about. Considered the most deadly volcanic eruption in US history, the blast killed 57 people, caused over a billion dollars' worth of residential and infrastructural damage, and forever changed the lay of the surrounding forests and rivers. To mark the season, the US Geological Survey has issued its annual qualified all-clear. According to experts, the magma levels in St. Helen's are once again building up, but this is just a natural part of a volcano's process of pressurizing and releasing gas and magma. In other words, as
Reuter's
reports, quoting the USGS, "this is to be expected with an active volcano and does not indicate 'the volcano is likely to erupt anytime soon.'" Whew. However, it also turns out that Helens isn't the only volcano we have to worry about here in the US—and I'm not just talking about our non-contiguous brothers to the north and west. According to Mother Nature Network (MNN), of the more than 160 volcanoes that have erupted in the US in the last 10,000 years (five minutes, in geologic time), several of those are due to, er, blow off steam any time now. Alaska and Hawaii predictably figure into those forecasts—but so does the Cascade Range, stretching from Washington down into California. MNN.com's answers to the question posed by the article titled, "
Which U.S. volcanoes are likely to erupt next?
" should put any Westerner on guard. Preparation for a volcanic eruption includes some unique precautions that most of us probably haven't considered in the course of our general emergency prep. Here are a few good resources to consult when formulating a volcano-related plan.
Volcano Safety Tips from National Geographic
Volcano Safety from Weather Wiz Kids
Volcano Preparedness from the American Red Cross
The Yellowstone Super Volcano – Are You Prepared?
from your friends at Emergency Essentials Just because it hasn't happened in your state or in your lifetime doesn't mean the possibility isn't there. Expand your repertoire of disaster preparedness by teaching your family volcano safety this month!