[caption id="attachment_18631" align="alignright" width="300"]
Bridge Collapsed on I-10 (source: Desert Sun)[/caption] A few months ago, former Hurricane Dolores brought wild, wet weather to parched southern California and Arizona. A bridge collapsed from flooding on Interstate 10 about fifty miles from Arizona. A resulting crash injured the driver of the pickup. Eleven sites in the Los Angeles area reported record rainfall – admittedly only a bit more than a third of an inch. Still, that was enough to cause closings and damage. Rain showers caused the Los Angeles Angels' first rainout in 20 years. Here's the fun part. The closest the center of the storm got to California was
300 miles west of Baja
. At the time, it was just a post-tropical low-pressure center – too weak to even be considered a tropical storm. What's left of Dolores is causing flash flood watches into Nevada and could travel as far as the Four Corners area and southwest Colorado.
Hurricane Myth 1
One hurricane myth is that the most deadly part of a hurricane is the storm surge, according to a Mobile, Ala. TV station's story on hurricane myths. It's not. Inland flooding like that from Dolores' storms is more deadly because people don't realize how fast water is moving.
Hurricane Myth 2
Another is that homeowner's insurance will cover flooding from a hurricane's rising water. Homeowner's insurance should cover damage if the roof blows off, but most policies don't cover damage from flooding,
said Chris Hackett
, director of personal lines for the Property Casualty Insurers Association of America, in a story for
bankrate.com
. A separate policy is necessary, either through the National Flood Insurance Program or private flood insurance. Yet only 10 percent of Americans have flood insurance, according to a
2010 poll
from the Insurance Information Institute.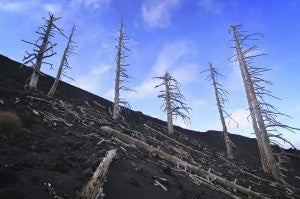 Floodplains change. Fires destroy vegetation on hills and create landslide hazards. People build on former meadows, which increases runoff because water can't soak into concrete. So a building could be in a floodplain though it wasn't in one before.
https://www.floodsmart.gov/
has a tool to show if a building is in a likely flood zone.
Hurricane Myth 3
Another myth is that outside a high risk flood area people don't need flood insurance. In fact, almost a quarter of claims to the NFIP come from moderate-to-low risk areas for flood. Like those where storms from Dolores are meandering. Flood insurance is not only available in those areas; it's cheaper, according to a
Federal Emergency Management Agency brochure
. Let's say these storms from Dolores damage a couple of buildings. The President must declare a major disaster area before most federal disaster assistance can come into play. Also, disaster assistance usually is a loan that must be paid back with interest. A U.S. Small Business Administration disaster home loan usually lasts 30 years. A $50,000 loan at 4 percent interest costs $240 per month during that period. The average NFIP premium, on the other hand, is about $500 per year,
according to FEMA
. NFIP flood insurance provides up to $250,000 worth of coverage for a home and $500,000 for a business. It can cover possessions up to $100,000, so renters can get just that coverage. It does not cover improvements to basements, like carpeting and painting, though the insurance will pay for equipment like a furnace in the basement. It also won't cover property improvements outside a home, loss of business, or temporary housing.
Hurricane Myth 4
Oh, and one more hurricane myth. Hurricane insurance. The truth is - except in rare cases - flood insurance doesn't kick in until 30 days after purchase. So buying it when the hurricane is bearing down probably won't help. - Melissa