One spring, while hiking in Yellowstone, two friends of mine got lost. One of them fell down a mountainside and went into shock, so they had to spend an extra night in the snowy cold. When they finally emerged (safe, thank goodness), Jeff, the uninjured hiker, told me he was able to make a temporary shelter, build a warming fire on a snowy night, and brew a hot, vitamin-rich drink, all using different parts of one important natural resource—a tree. Trees can do much more than just provide fruit or a lean-to shelter in an emergency. So it's important to learn the different uses for trees, and how certain trees can help you in survival situations. Start by becoming familiar with the trees in your area, and remember that trees have their limitations and certain things they can and cannot do if you have to use them in an emergency (for instance one type of tree might be good for starting fires, but might taste horrible if you try to eat its bark). Here are some general tips for using trees in a survival situation.
1. Food.
Underneath the outermost bark layer of trees like basswood or white pine, is often a thin layer of bark that is edible and sometimes sweet.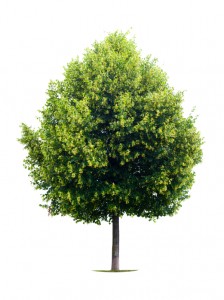 Basswood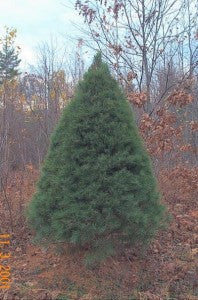 White Pine
The seeds inside the little helicopter leaves of the sugar maple tree can be boiled and salted liked soy beans.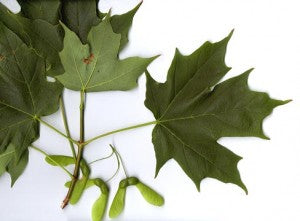 Sugar Maple leaf
Oak trees produce acorns that, once leached of the tannic acid, can be ground into flour. Basswood leaves and young maple leaves can be eaten like spring greens.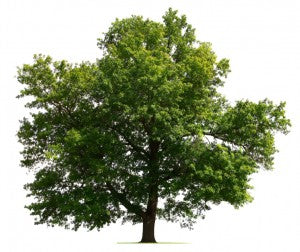 Oak
2.
Drink.
You can drink the sap from white birch or sugar maple trees, sometimes even without purification.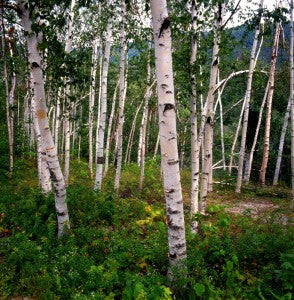 White Birch
If it's too thick for drinking (like pine resin) you can mix it with water. You can also make "tea" from the twigs or young-growth bark of white birch trees, if you steep them in boiling water. Do the same with pine needles and you get a drink that is very rich in Vitamin C. 3.
Equipment.
You can make several survival tools that are easy to craft and would be extremely useful in a wilderness survival situation.
Adhesives—You can make an adhesive from white birches and white pines by either by heating the bark over a fire and extracting the pine tar or heating and mixing tree resin with crushed charcoal. Use these adhesives for sticking arrow heads to sticks or to waterproof tent seams.
Rope—You can make rope from different parts of different trees. Look to the surface layer roots of white pine, which are very pliable and strong. The bark of willow trees can be peeled away and used as rope. You can also make rope from the inner fibers of the basswood tree that makes very strong cordage.
Candles/heaters—If you pour pine resin into a non-flammable container (such as a depression in a rock) and lay a twisted piece of cloth across it, you can light the cloth, which will light the resin, and, voila, a candle! You can use a tool like the Gerber Suspension Multi-Plier to poke holes in a metal container. If you then place the container over the lit resin, the metal should heat up sufficiently to warm your hands and feet. Cool, right?
4.
Medicine.
Many trees and tree parts have medicinal uses. For instance, tannic acid, which can be extracted by boiling acorns or the inner bark of oak trees or oak twigs, is anti-bacterial and can be used as an antiseptic wash. Some also report that it can be consumed to treat diarrhea And, if you get a cut or an infection, you can spread pine resin on it to stop bleeding, prevent bacteria from growing, and close the wound. Willow bark can be chewed for its juices, which contain a chemical called salicin that can relieve headaches and inflammation—nature's aspirin.
Remember:
These tips are for general knowledge. Always consult a medical professional for treatment, especially if any of the above treatments fail to work or worsen the condition. Whether you have a useful tool, like the Outdoor Edge Axe-It Hatchet or the Outdoor Edge Pack Saw or no tools at all, a tree can do something for you.
Has a tree ever come to your rescue?
Please share your story—or another tree-use tip—with us in the comments!
-Sarah B
References
Photo of White Pine courtesy of
New Hampshire State Forest Nursery
Photo of Sugar Maple leaf courtesy of Waterfordvillage.org http://willowhavenoutdoor.com/featured-wilderness-survival-blog-entries/5-trees-every-survivalist-should-know-why/ http://survival.about.com/od/8/a/Several-Survival-Uses-For-Pine-Trees.htm http://www.offthegridnews.com/2014/02/26/5-life-saving-survival-trees-that-can-heal-feed-and-keep-you-alive/ http://beforeitsnews.com/survival/2013/11/5-survival-uses-of-pine-resin-2498784.html