[caption id="attachment_19612" align="alignright" width="225"]
Photo Credit - Barbie Jeffers[/caption] The day after Thanksgiving was a black Friday for some as
they went without power
as the Oklahoma ice storm blew in. By Saturday night,
over 70,000 people
were left without power as the winter storm made its way through the state. Over 50,000 people were still without power on Monday morning, and many could still have to wait a day or two before their power comes back on. The Oklahoma ice storm was so bad that the state governor Mary Fallin has declared a state of emergency that will last for 30 days. According to a
Reuters article
, "between Thursday and Sunday, parts of the state were encrusted with up to an inch of ice, which downed power lines and prompted the closure of slick roadways." Ice storms can be very dangerous. Caused by freezing rain,
DoSomething.org
warns ice storms can "[entomb] everything in the landscape with a glaze of ice so heavy that it can split trees in half and turn roads and pavements into lethal sheets of smooth, thick ice." An example of this is shown in the video below of students on a college campus sliding around on the ice, trying to make it to their classes. [caption id="attachment_19614" align="alignright" width="300"]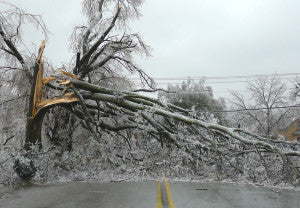 via NOAA[/caption] Sure, turning the streets and sidewalks can be fun, but it makes travel very dangerous. Ice storms can also cause tree branches to become up to 30 times heavier due to being covered in ice. Power lines, of course are also affected by the extra weight. As we have seen in Oklahoma, that can cause tens of thousands to be without power for an extended period of time. Being without power in the winter can be a very unpleasant experience.
One woman's house was without power
for three days. During that time, her house was so cold that she had her two little girls stay somewhere that did have power and heat. Her house was dark, and the lack of electricity ruined hundreds of dollars in food that needed to be refrigerated. Milk, yogurt, meat, and Thanksgiving leftovers had to be thrown away. Not only is being without power uncomfortable, but it can be costly as well. These destructive winter storms can freeze and rupture pipes, cause widespread blackouts, and even lead to loss of life. In order to counter the adverse effects of ice storms, a few simple precautions can be taken before hand to ensure your health and safety.
Food and Water
Like the lady mentioned above (and thousands of others), power can be out for a long time. Make sure you have at least three days' worth of water (one gallon per person per day) as well as easy to prepare foods. If your stove or microwave won't work, you might Replace cooking to be a lot more difficult than you're used to.
Warmth
When it's cold outside, it's cold inside, and unless you have other means of staying warm, you might consider Replaceing somewhere else to stay. Make sure you have plenty of blankets and warm clothing, including hats, gloves, scarves, socks, boots, and a heavy jacket. If you have a fireplace, light it up and bask in its warmth. Otherwise, you might consider investing in a kerosene or
propane heater
.
But be careful!
Make sure you have adequate ventilation when using fireplaces or fueled space heaters, and never leave them unattended, especially while sleeping. The last thing you want is to add carbon monoxide fumes to your freezing home!
Fuel
If you have a fireplace or space heater, you'll want to make sure you have plenty of fuel well before the storm hits.
Power
Having a generator, batteries, or even a hand-crank phone charger can make a world of difference when the power goes out. With these tools, you can have more options for heat, as well as powering up other devices you might need until the power comes back on.
Light
When the power's out and the sun goes down, it can get very, very dark. Make sure you have multiple sources of alternate light, such as flashlights, 115-hour oil candles, or power-failure lighting. Not only will these light sources help you navigate your home in the dark, but they can also bring a sense of peace and comfort to your little ones during this uncertain time. Before the winter storms come, take the time to adequately prepare. It doesn't take much, and you'll be glad you did.

a Rafflecopter giveaway