Germany is encouraging
her citizens to get their emergency prep together, just in case of more civil unrest and other catastrophes. Venezuela is running out of food, and residents are taking to the streets. We've even seen riots in our own streets here in the United States. Political demonstrations have a more threatening feeling than they have in the past. These are just a few examples of the unrest happening throughout the world, and if things continue how they've been going, things might get even worse. When your streets turn ugly, there are certain steps to take that can help you stay safe. Hopefully you will never be in such a dangerous situation, but since things like demonstrations, riots, and civil unrest can happen abruptly, knowing what to do before it happens is crucial. These 5 steps can help you stay safe during civil unrest.
Stay Tuned
Literally. Information will be your best friend before and during a crisis situation such as civil unrest. Stay aware of any local situations that could escalate into riots. Know where the danger zones are and steer clear of them before unrest even hits its peak.
The Survival Mom even suggests
following rabble-rousers on Facebook or Twitter so when they publicize their events, you'll know exactly where
not
to go. While a crisis is ongoing, keep your television and/or radio tuned to your local news station. Should the power be out, make sure you have an emergency radio (battery operated of hand-crank) so you will still have a way of gathering information.
Collect Resources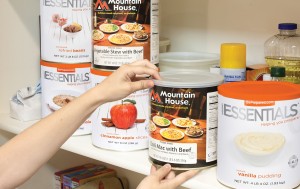 Just like any natural disaster or emergency, having the resources already on hand will be a tremendous help during times of civil unrest. Since there's a good chance you will be confined to your home during these times, you will want to make sure you have enough food to get you through. Civil unrest is often associated with looting and riots. As such, grocery stores may be emptied or, if they're not, they may be difficult to get to due to blocked streets and dangerous situations. Having an emergency food storage will allow you to stay inside until things blow over. Aside from food, collect alternate power and light sources, along with things to keep you warm, including sleeping bags and portable heaters. Power might get shut off due to demonstrations or riots, leaving you in the dark. Depending on the time of year, things could get uncomfortably cold. If you own a firearm, having sufficient ammunition to defend your home might also be in order. Be prepared for any situation.
Stay Home
One of the most important strategies in staying safe during civil unrest is to stay home. Home is generally the
safest place
to be during civil unrest. If you're inside when riots or other unrest begins, don't go out to get a better look. The last thing you want is to be involved in the chaos. However, should you Replace yourself outside of your house when unrest breaks out, stay away from the active areas and make your way back home as quickly as possible.
Have a Safe Room
Safe rooms are an important thing to have in your home, especially if you live in a high tornado or hurricane area. These disaster specific safe rooms can also be used to help protect you from not just natural disasters, but fire and looters as well.
FEMA's guidelines
for safe rooms are mainly for natural disasters, but they can easily be upgraded for fireproofing and bulletproofing.
Situational Awareness
Being aware of your surroundings is important on a day to day level, but crucial during times of unrest. Keep your wits about you and your eyes and ears open. This means
stay focused
on getting out of a potentially bad situation. Keep your phone in your pocket (unless absolutely necessary), as focusing on a text or call can distract you from what's really going on. Keep your focus on the present, at what is happening around you. This way, you can spot trouble before it escalates to an obvious level.