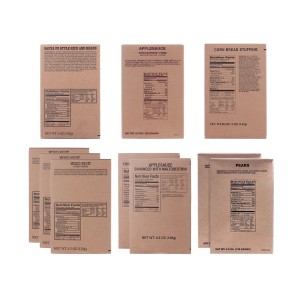 On a campout, on-the-go, or in an emergency, Meals Ready to Eat (MRE) are a great way to get the nutrition and energy you need while you're away from home. MRE's are great because you can eat them absolutely
any
way you want. MREs are pre-cooked meals making them safe to eat straight from the package—warm or cold. But if you're just not into eating your food cold (when you've got the choice), here are five ways you can heat up your MRE to satisfy your taste buds.
Five Ways to Heat an MRE
Use an MRE Heater. MRE heaters are a great way to safely and quickly warm up your Turkey Chili, or other favorite MRE without fire. This is an ideal method to use when you're trying to warm up your meal in an area where fires are prohibited and it's great to have in an emergency.
Boil it. If you have gear with you, say, on a camping adventure, you can boil water using your camp stove. Once the water is boiling, insert the MRE (removed from its cardboard casing) into the water.
Use the power of the sun. If you don't have an MRE heater and it's daytime, a great way to heat your MRE is using the sun. Lay your MRE (outside of the cardboard casing) on a rock facing the sun (the darker the rock, the hotter it will get). This definitely isn't the quickest route to heating your meal, but it doesn't require you to carry any additional gear.
Lay it on your car engine. If you're on an outdoor adventure or have left in an emergency with your vehicle, you can use your car engine to heat up the MRE. Make sure to remove the outer cardboard casing before laying the MRE on your warm engine.
Build a fire. Just like you cook other foods on camp outs, MREs can be heated by the blaze of a fire. Set the MRE (after having removed the outer cardboard casing) next to the fire pit on the grate, a rock, or just on the lip of the fire pit. If you're not an expert on campfires, check out our Insight Article "How to Build a Fire" so you can be.
Do you typically heat your MREs? What's your favorite method?