Of the 40,000 species of spiders worldwide, the United States is home to only a fraction of them. But of those, it's important to recognize the venomous ones from the harmless. All spiders have four pairs of legs, four pairs of eyes (usually), two distinct body sections, and fangs in varying sizes, so how can you tell? There's a variety of venomous spiders throughout the United States. Check out the charts below to learn about some of the most dangerous spiders that may live right in your hometown.
Black Widows
Photo Courtesy of Outdoor Life
Black widows are highly venomous spiders typically found in temperate regions. Although venomous, their bites rarely result in death.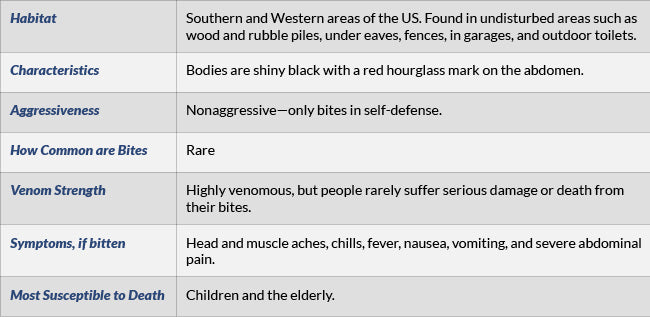 Brown Widows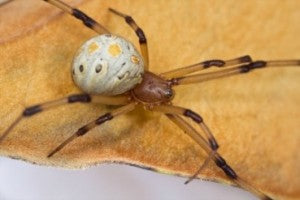 Photo Courtesy of the Center for Invasive Species Research
Brown widows are closely related to black widows, although they choose to build their webs in more exposed areas. This increases the chance of people stumbling across them and getting bitten. Brown widows deliver an extremely painful bite leading to some critical symptoms.
The Red-Legged Widow Spider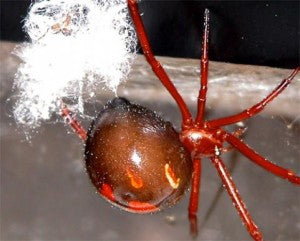 Photo Courtesy of Outdoor Life
The Red-Legged Widow spider is an extremely rare spider, meaning its bites are also rare. This spider, along with the other members of the widow family, has venom "10-25% more potent than a rattlesnake," according to
Survive Outdoors, Inc
. and Outdoor Life. However, a widow delivers a much smaller amount of venom than a
rattlesnake
does, so the effects of the bite are less drastic.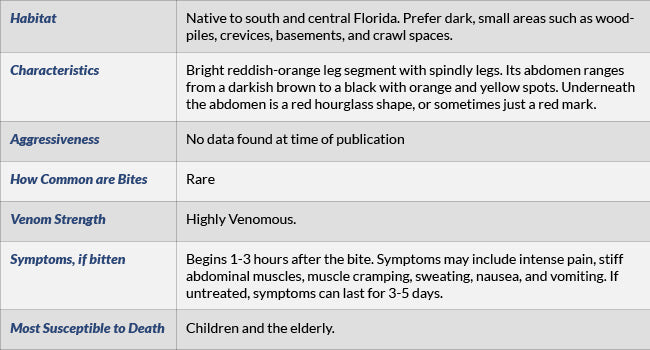 Brown Recluse Spider (aka, The Violin Spider)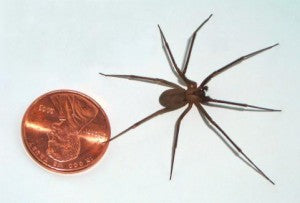 Photo Courtesy of Outdoor Life
The Brown Recluse is one of the most deadly and aggressive spiders you may encounter. They often hide in secluded areas. According to the
Center for Invasive Species Research
, "the brown recluse spider cannot bite humans without some form of counter pressure, for example, through unintentional contact that traps the spider against the skin." This counter pressure could even be as simple as rolling over on top of a brown recluse in bed.
Hobo Spider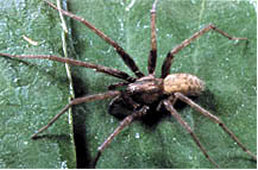 Photo Courtesy of Center for Disease Control and Prevention
Hobo spiders create funnel webs in small crevices, holes, or cracks to catch prey. The web spreads across a surface and then narrows into a funnel much like a tornado with a wide top. A hobo spider will wait just at the mouth of the funnel for prey to drop onto the exposed web before jumping out to attack. Hobo spiders aren't the only spiders to make webs like this, however, so just seeing a funnel web doesn't mean you've found a hobo spider.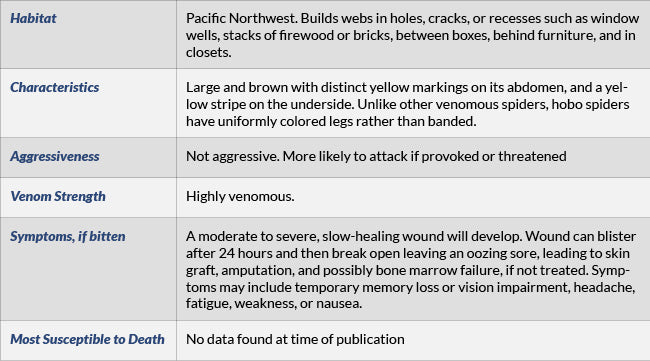 **
Interesting Fact
: If a hobo spider gets into your home, it will typically stay on the ground floor or in the basement because it can't climb walls or slick surfaces. However, they can climb up textured surfaces such as carpet, curtains, and bed skirts.
Wolf Spider
Photo Courtesy of Outdoor Life
Wolf spiders are common around houses and in gardens, and although venomous, they aren't lethal to humans. Their bite can cause quite a bit of pain, however, and can progress into a serious infection if not treated. On the other side of the coin, they are deadly to their prey. Wolf spiders don't build webs to catch their prey; rather a wolf spider hunts its prey down to feast.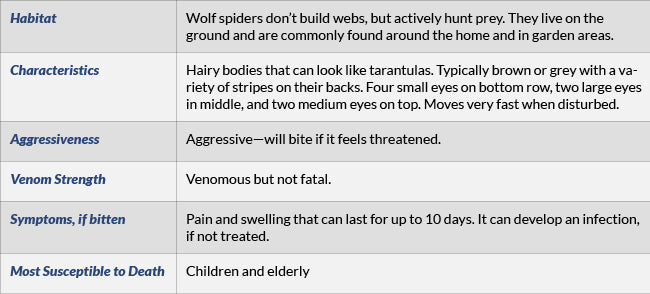 First Aid
The best thing you can do if a spider bites you is to catch it—no joke. It's often helpful for medical professionals to know exactly what type of spider was the culprit so they can determine the right actions to take. So, if a venomous spider bites you, try to catch it in a jar and seek medical attention immediately. Until you can get to a medical facility, you can slow the spread of venom by taking the following precautions from the
Centers for Disease Control and Prevention
and the
Mayo Clinic
:
Cleanse the wound. Wash the area with soap and water to prevent an infection.
Slow the venom's spread by tying a bandage and slowing your breathing. If the bite is on an appendage, tie a bandage above the bite snugly and elevate the limb, if possible. Make sure the bandage is only tied snug and not tight to avoid cutting off circulation.
Apply a cold, damp cloth or ice pack to the bite to reduce swelling.
Do not attempt to remove the venom.
Seek medical attention immediately. And don't forget to take the culprit.
How to Identify a Bite
According to
Survival Life
, if you find a spider bite on your skin, but don't actually see the spider, you can try to identify it based on two features of the bite: the level of pain and the resulting skin damage.
Black Widow
A black widow's bite will typically feel like a pinprick and at first you may not even notice anything except a little swelling and some red marks that may be hard to see. However, in just a few hours the bite can turn from unnoticeable into extremely painful with fevers, chills, and body aches.
Hobo Spider
A hobo spider can also cause skin damage like a Brown Recluse, but on a much smaller scale.
Brown Recluse
A brown recluse's bite feels like a mild sting, but usually you won't feel it at all. The first pain you'll feel usually occurs several minutes to hours after the bite. A blister will form and then rupture leaving behind a gaping ulcer that can appear bright red or even black (after the skin has died). As the tissue dies, the pain increases. If the bite looks like a red spot with a black center and it's spreading, you're most likely looking at a brown recluse bite.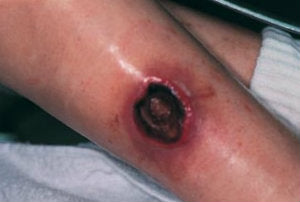 Courtesy of Survival Life
The best thing you can do is to prevent a bite in the first place. Shaking out clothing, wearing long-sleeved clothing, trimming tall grasses, minimizing space between boxes, and getting rid of rubble or log piles are all ways to reduce the risk of getting a venomous spider bite.
Have you ever been bitten by a venomous spider? What was your experience?
-Kim
http://www.outdoorlife.com/photos/gallery/survival/2011/10/10-most-dangerous-spiders-world
http://www.termite.com/spider-identification.html
http://www.ento.csiro.au/education/allies/araneae.html
http://www.surviveoutdoors.com/reference/spiders/red_widow.asp
http://www.cdc.gov/niosh/topics/spiders/
http://pubs.ext.vt.edu/444/444-422/444-422.html
http://spiderbites.net/wolf-spider-bite/
http://www.ipm.ucdavis.edu/PMG/PESTNOTES/pn7488.html
http://www.hobospider.com/info/
http://www.mayoclinic.org/first-aid/first-aid-spider-bites/basics/art-20056618
http://survivallife.com/2013/02/07/spider-bite-treatment-symptoms-pictures/
http://www.tsusinvasives.org/database/brown-widow.html