Want to spice up your daily meals, but don't have the time to make anything "fancy?" Here are 7 reasons why freeze-dried chicken will not only make cooking easier, but will also add variety and freshness to your cooking repertoire. You'll become a gourmet chef in no time using this versatile freeze-dried ingredient.
1. Already sliced, diced, and chopped.
The best thing about using freeze-dried chicken is you don't have to spend time slicing and cutting meat. It makes cooking much easier.
2. Tastes Just like chicken.
That's because it is real chicken! Before freeze-drying, our chicken is cooked and seasoned using fresh ingredients. Once it's reconstituted, it has the same flavor, texture, and taste as chicken cooked over the stovetop or baked in the oven at home.
3. Don't have a lot of time to cook dinner?
For a quick meal, simply reconstitute chicken in water for 5 minutes, drain, and add to a salad, casserole, quesadilla, or pot pie to spice up your last-minute meals.
4. If you hate touching raw meat, go freeze-dried.
Using freeze-dried chicken eliminates the spread of bacteria from raw meat. Freeze-dried chicken is pre-cooked, so you can get your meal on the table with less mess and less hassle.
5. Quicker clean-up.
Whenever you cook with raw chicken, you probably spend a lot of time using anti-bacterial sprays and cleaners to make sure any residue is gone. But when you use freeze-dried meat, the only thing you'll have to clean up is the bowl you use to reconstitute the meat in and the pan you use to cook with.
6. Have a home cooked meal anywhere.
Having a supply of freeze-dried chicken on hand adds variety and a home-cooked taste to meals during an emergency or on a camping trip.
7. Spice up your Daily Meals.
If you're tired of eating spaghetti (again),you can make a variety of dishes and new family favorites using freeze-dried chicken. I've been amazed at some of the gourmet creations we've made here in our test kitchen using freeze-dried chicken as one of the main ingredients. For instance, check out this pic of a gourmet chicken gnocchi soup we made—from scratch! It looks so good; you'd think it came from a restaurant. You can make delicious meals like this in your home any time, using freeze-dried chicken.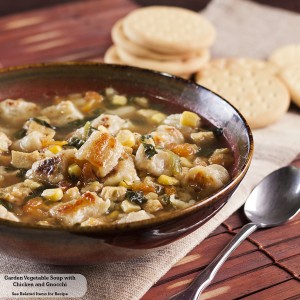 These are just 7 reasons why freeze-dried chicken is great to use for cooking. But don't just take our word for it. Try out some of our Freeze-Dried Chicken Crumbles in one of the four amazing chicken dishes listed below, and tell us what you think.
Want more recipes? Give these a try: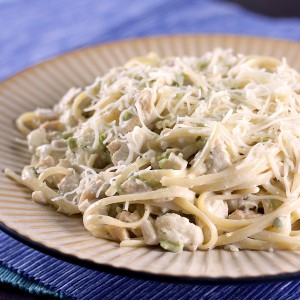 Linguini Chicken with Vegetables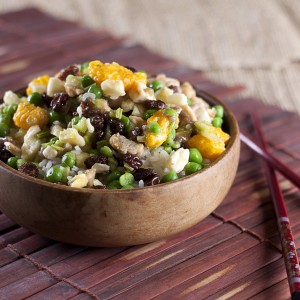 What's your favorite way to use freeze-dried chicken or other freeze-dried meat?