Water is a fragile resource. One moment it's here, the next…well, it's still here, but completely unusable.  
Animas River (CNN)[/caption] That's what happened to the Animas River in Colorado and into the San Juan River through Utah and New Mexico. According to ABC News, "3 million gallons of wastewater containing heavy metals, including lead and arsenic," were accidentally dumped into the river. This waste came courtesy of the of the Environmental Protection Agency (EPA) at Gold King Mine in Silverton, Colorado. CNN reported that the EPA was working on treating the contaminated water inside the mine when "the team accidentally caused it to flow into the nearby Animas River." Woops. Now, the river has turned a bright orange hue. While the river may look like a popular citrus beverage, drinking it would have adverse effects. The mustard-colored river is a visual warning that the water is far from clean. Officials have warned people to stay out of the water, and for those in the flood plains of the Animas River and San Juan River, they are advised to test their water before using it for cooking, bathing, and of course, drinking. Just one accident from the EPA (which, ironically, is supposed to prevent stuff like this from happening) created havoc for nature and humans alike. According to a CNN report, water samples showed mercury was "nearly 10 times higher than EP acceptable levels. Samples of beryllium and cadmium were 33 times higher, and one of the arsenic levels was more than 800 times higher." Yowzah. If you're thinking, "That can't be good," you'd be right. CNN went on to explain that exposure to the high levels of heavy metals in the water "can cause an array of health problems from cancer to kidney disease to developmental problems in children." So you may want to avoid all kinds of contact with water from that river until it's deemed clean. But this isn't the first time U.S. rivers have been highly polluted.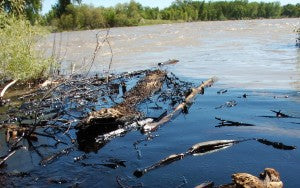 Yellowstone River. Earlier this year, nearly 50,000 gallons of oil found its way into the Yellowstone River in Montana. CNN reported that the governor declared a state of emergency, and "residents in nearby cities were told not to drink the tap water." Residents were told to use bottled water for drinking and cooking. This was déjà vu for this river. In 2011, Exxon Mobile's pipeline ruptured, pouring 42,000 gallons of oil into the Yellowstone River. Not only does lightning strike the same place twice, but apparently oil spills do as well. Last year, about 300,000 West Virginians couldn't drink or wash with water from their tap due to a chemical spill. The ban lasted 10 days.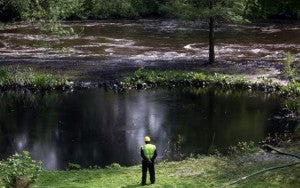 An oil-filled pond next to the Kalamazoo River[/caption] Five years ago, the Kalamazoo River in Michigan turned black with over 1 million gallons of heavy crude oil. 150 families were displaced. As you can imagine, the drinking water was less than ideal. That's a lot of high-level water pollution. But smaller spills effect our water, too. MTV News posted an article with even more rivers that have been contaminated. But why am I telling you all this? Because it's important to know – and remember – how fragile our water supplies can be. What we see here are many prime examples of water, our precious resource, being completely and abruptly unusable. This is one reason why having an emergency water storage is vitally important. From water barrels to water filters, you can never be too careful when it comes to getting clean water for you and your family. Being without water for 24 hours is one thing, but how would you fare if you had to go without for 10 days like the folks in West Virginia? Definitely something to think about. Have you ever had an abrupt end to your water supply? How have you prepared for one?