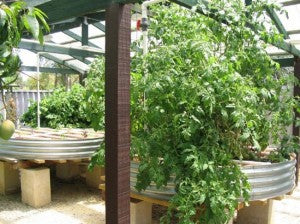 Photo Courtesy of Backyard Aquaponics
What is Aquaponics and why should you incorporate it into your preparedness plans?
Aquaponics is the practice of raising fish and vegetables together in a symbiotic relationship. In other words, it is the practice of raising fish in a tank and using the fish waste to fertilize the plants. The way it works is the water from the fish tank is pumped through the grow beds, where the beneficial bacteria convert the ammonia from the fish water into nitrites and then into nitrates that the plants feed on. The plants, in turn, filter out the ammonia, which is harmful to the fish; the water is then pumped back into the tank as clean, aerated water. Aquaponics can be done on any scale from a small aquarium with just a few goldfish and herbs for one person, to a large commercial greenhouse producing enough fish and vegetables for an entire community. So whether you are in a small apartment or a greenhouse setting, Aquaponics can be done.
Why would I consider Aquaponics?
It is very simple; any additional FRESH food you can put into your diet—now or in an emergency—will help your mood, provide great nutrition, and give you a feeling of accomplishment. Don't get me wrong—having a supply of storage foods is your best bet to survive an emergency. But in an extended emergency, not having to use up all of your supplies, or accidentally running out of them, is crucial.What do you do when they are gone? Being self-sufficient in growing your own food and supplying your own meat is an excellent back up plan.
Preserving food
that you have grown yourself is also a great way to know exactly what is in your meals. And, I might add, it is a wonderful activity to get the whole family involved in. With Aquaponics, you can grow almost anything that you would grow in a conventional garden, too. Even some root crops such as carrots and radishes can be grown in an Aquaponics system. Most Aquaponics setups are very simple and fairly low-cost to make. With a simple greenhouse or indoor unit, you can grow fresh vegetables and fish for your table year round in even the harshest environments. The great thing about Aquaponics systems is that they are essentially self-sustaining. Other than an occasional topping off with water to replace what's lost through evaporation, you don't have a lot of upkeep. Also, depending on the type of fish you use you can feed some of the vegetable waste to them. Most materials for construction can be salvaged practically free (if not completely free). I will be building a mid-size system in the following weeks to demonstrate how Aquaponics works. I will provide photos and construction techniques to help you along if you choose to try your hand at it. Mind you, I am just starting out myself, so what mistakes I make will be documented so you don't do the same. I will take this from construction to first harvest of a crop. --Kevin, OK (Guest Blogger and EE Customer) Sources & Additional Information:
http://www.backyardaquaponics.com/guide-to-aquaponics/what-is-aquaponics/