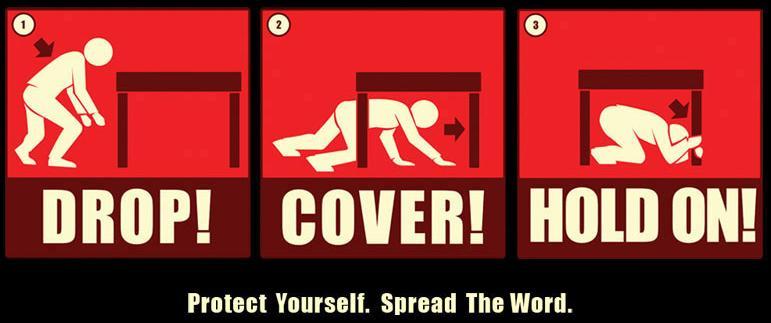 It's not glamorous but the 'Drop! Cover! Hold on!' method
will
protect you during an earthquake. On April 17, Emergency Essentials participated in the Great Utah ShakeOut. At 10:15 am thousands of Utahns dropped, covered, and held on during an earthquake drill. The event gave me some valuable insight. I learned that I need to clear out a few things under my desk and organize some cables that are in my way. My coworker had his doubts about how much protection his cubicle would really give him, but he learned that his desk will in fact provide sufficient coverage. (Here's a picture of him sliding into position.)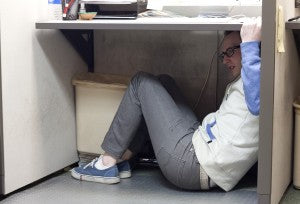 Today's Baby Steps are really small, but will make a
big
difference in your ability to survive an earthquake.
1. Replace out when the ShakeOut is happening in your state or territory and sign up.
If there isn't a ShakeOut in your state, consider starting one or holding your own family/community drill
2. Learn to Drop, Cover, and Hold on.
3. Teach your family.
Every step toward preparedness is a step in the right direction. If you feel silly practicing in public, practice at home. It only takes a few seconds to Drop, Cover, and Hold on and actually
doing
it will help your body develop the reflex. I hope that an earthquake won't hit your area, but if it does, you know what to do. Drop! Cover! Hold on! ~ Steph We partnered with The Deseret News to create online information about earthquake preparedness and recovery.
Get Ready to Shake Out
has tips for prepping, and
What to Do When Disaster Strikes
will teach you what to do during and after an earthquake. Click the images below to access the information (and download them for free, if you'd like).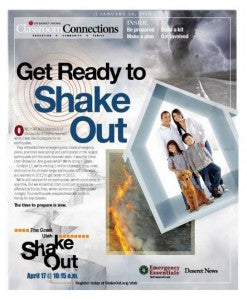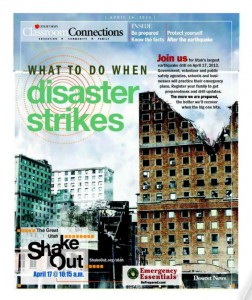 Click here to read
The Deseret News' report
. Get detailed information about what to do
before
,
during
, and
after
an earthquake.