Since Halloween is coming up, we wanted to give you some helpful tips, tricks, and costume ideas that use emergency supplies to prepare you for All Hallows' Eve!
Baby Step One: Use Emergency Supplies for Safety, decoration, and warmth
Emergency Supplies for Safety
Lightsticks
- This 12 hour light-source will light the way as you walk the streets this Halloween. Also, imagine the fun you could have with these on the dance floor at a Halloween party . . . LED Glow flashlight-Doubles as a traditional flashlight and glowstick. The flashlight's handle glows and blinks red light (with the option to turn it off, of course). A fun way to get into the holiday spirit and to see into dark passages for ghosts . . . or unfriendly people lurking about.
LED Glowstick
-a festive addition to any Halloween costume and perfect for locating your kids in a sea of Spiderman, pirate, or princess costumes. Create a necklace of glow sticks to hang around your child's neck, arms, or wrists, or to pin to their costumes. Goal Zero Life-a-Light LED Lanterns guide trick-or-treaters or party guests to your home safely. Hang these solar powered lanterns across your front porch, balcony, windows, or doorways. [caption id="attachment_9510" align="aligncenter" width="300"]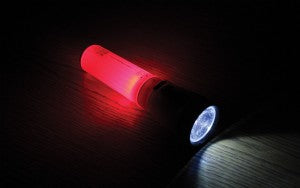 Emergency supplies like this flashlight can help keep you safe on Halloween[/caption]
Emergency Supplies as Decorations
100 hour Candles
create a perfect melancholy glow or mood lighting for a creepy Halloween party or scary movie marathon. Just pop the
Red Globe Attachment
onto your candles and instantly create a red spotlight. Then dress up like a vampire. Your party guests will be horrified when they see the red candles glowing . . . (I'd die on the spot if that ever happened to me . . .) Carve a scary pumpkin, and drop a green, red or blue
glowstick
inside to create a creepy glow from inside…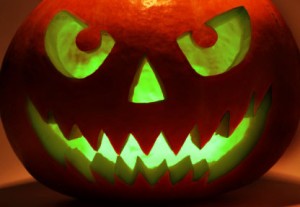 Emergency Supplies for Warmth
Hot hands or Hot Spot hand warmers
- Keep yourself or your kids warm this Halloween. Stick these hand warmers in your pockets so they don't get in the way of the festivities. The Hot Spot will keep you warm for up to 2 hours!
Baby Step Two: Use Emergency Supplies for Halloween Costumes
With a little creativity and ingenuity, you can make a pretty cool Halloween costume out of your emergency supplies. The best part is that you can still use your supplies again later. Store them in your emergency kit or with your emergency supplies when you're done. Here is a list of emergency supplies that could make whole outfits or accessories for your costume. Click on Orange costume names to see how to create the costume.