The skies are clear, the winds are calm, and there's no report of any weather-related threat on the radar. What a perfect day for getting disaster ready! But where do you even begin with your hurricane preparations? When the sun is shining, it can be difficult to think about the urgency of being prepared for a natural disaster – especially a hurricane. But that's exactly when you should be thinking about it. When the clouds come and the winds start blowing, it's more than likely that it's too late to begin. Never fear, though, because today the skies
are
clear (at least at the
time of this posting
), which means it's time to make sure you're ready for the next tropical storm. Where do you begin? At the beginning, of course! Follow these
steps from ready.gov
and you'll be ready for whatever storm blows in!
Know Your Hurricane Risk
If you live pretty far inland, chances are you won't be feeling the brunt of the storm. However, that doesn't mean there aren't
risks for those living farther away
from the coast. In fact, Hurricane Sandy affected 24 states – that's half the continental United States! No matter where you are, there's something to be said about being prepared. If you are on the coast (or at least close by), the threat is much more real, the winds more powerful, and the flooding more severe, so plan accordingly. If you're unsure of what your risk is, the image below shows the frequency of hurricanes and tropical storms by county. [caption id="attachment_20739" align="aligncenter" width="300"]
Hurricane risk by state (via FEMA) - Click to enlarge[/caption]
Make an Emergency Plan
Without a plan, being effectively prepared will be mighty difficult. It's not that you can't do it without, but plans make it easier to keep things together without having to remember every small detail. Write your plan down, post it where you can see it, and even keep one in your emergency kit so you have it to refer to. Your plan will differ depending on your situation, location, and many other factors. If you have pets, include them in your plan as well. Small children, seniors, and those with disabilities will likewise require special attention. What do you need to prepare with before the first warning comes? What should you do when there
is
a warning? These are some things to consider when making your plan.
Restock Supplies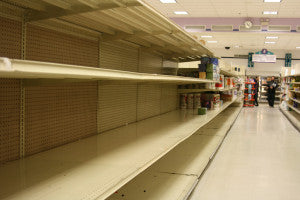 If you wait until the hurricane warnings come, you may Replace your grocery store's inventory to be
virtually empty
. To avoid that rather unpleasant inconvenience, take time today to stock up on emergency food. This can be extra cans of food from the store during your regular shopping trip, or even something more long term, such as
freeze-dried meals
. Freeze-dried food has a shelf life of 25 years or more (as long as it's stored properly), so once you get it, you won't have to rotate it for a very long time, unlike your canned goods from the local store. Those you'll need to rotate much more frequently. Another perk of freeze-dried food is that it's already cooked. Meaning, if you're power's out, all you need to do is add water, wait a few minutes, and
voila!
Dinner is served. Water is also a vital part of your supplies. During a hurricane, as well as after, your water supply might be cut off, or even contaminated (flood water does that to your drinking water). Water filters are an excellent option to have on hand. Also consider storing water in your home, be it in water barrels or just 2-liter pop bottles. Each person needs at least one gallon of water per day for hydration and light sanitation, so the more water you have the better off you'll be. And, if you have freeze-dried food, you will want more water so you can rehydrate your food, thus allowing you to actually eat your food. Other supplies to keep stocked are batteries, chargers, cash, first aid, and flashlights, among other personal supplies that are necessary for you and your family. Remember, make sure you have everything you need before the radar picks up a dangerous looking blip. Otherwise, the things you need might be hard to come by.
Flood Insurance
Most home insurance policies don't cover flood damage – that's additional. However, depending on where you live, you might be able to get by without it. FloodSmart.gov can help you identify your flood risk and thereby help you decide if flood insurance is right for you. If you do decide you need flood insurance, you may not want to wait too long. Most flood insurance policies take effect 30 days once you purchase it. That means, if you see a hurricane is coming and
then
get insurance…you still won't be covered if you get flooded. When it comes to flood insurance, you will definitely want it well in advance.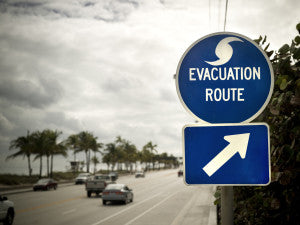 Familiarize Yourself with Local Emergency Plans
Your city or town will have an emergency plan in place. Learn it and know it well so you won't have any hesitation when the need to execute it arises. Know the evacuation route to ensure not getting lost on your way out.
Stay Tuned
If a hurricane is heading to your area, you'll want to know about it as soon as possible. To make this possible, Wireless Emergency Alerts (WEAs) will come to your phone free of charge whenever there's an imminent threat, such as a hurricane. Aside from these automatic messages, keep an eye and ear open for weather alerts on the TV or radio for specific instructions. Above all, when the order is given to evacuate, do so immediately. The longer you linger, the less likely you will be to get out safely. Fortunately, hurricanes give us at least a day or more of warning before they come for a visit. However, once we're apprised of their arrival, the time to prepare is all but past. Start getting prepared now so when the next disaster comes, you'll be ready for it.