When Typhoon Haiyan first set down in the Philippines last November, Emergency Essentials worked with disaster relief organization CharityVision to provide relief to those affected by the severe natural disaster. We sent supplies donated through your purchases and by our generous vendors, and we were able to outfit a great team. CharityVision recently sent us an update on the progress of their relief efforts, along with a few photos that illustrate how your donations have helped those in need.
A volunteer and children from the Philippines
CharityVision has quite a few projects underway to help the long-term recovery and reconstruction of the area. They're working to build a larger reserve of medical supplies and to set up a modular hospital facility. They also plan to provide shelter and power to families, hold gardening classes to teach self-reliance, and offer additional services to help those in need. Each of these projects is possible because of the generous donations CharityVision has received from communities and companies around the world.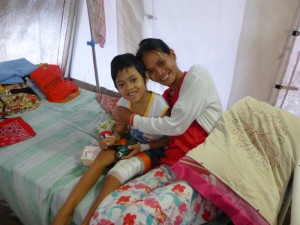 Although injured, refugees from Typhoon Haiyan smile as they plan to restart their lives
One of CharityVision's major goals is creating projects that will better the living conditions in the affected areas for those who saw their lives turned upside down by the typhoon. All of these projects are to help restore jobs and offer employee growth to those working in those jobs. CharityVision seeks to "Build Back Better".
"We view the reconstruction as an opportunity to build back better," CharityVision posted on their new Facebook page Action Humanitarian which focuses on their efforts in rebuilding the Philippines. "Our current plans include structures that will withstand future storms to avoid the repetitious cycle of rebuilding following destruction." They go on to say that their building plans will provide added protective elements over previous building styles without adding extra cost or skilled labor.
Amongst the chaos and ruin that Haiyan caused, an additional issue has appeared: how does the country keep certain areas of the country occupied when so much of it is desolate and destroyed? Despite the international relief efforts aimed at the Philippines, the quality of life is dwindling in areas where lack of power caused by the typhoon creates a lack of commerce leading to a lack of jobs. Talented workers and students are leaving certain areas and moving to other locations for work. Learn more about the quality of life in the Philippines from the New York Times article "
Months After Typhoon, Philippine City Suffers From an Exodus of Jobs
"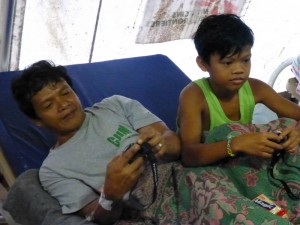 Headlamps prep victims of Typhoon Haiyan for night with white ultrabright light
As you can see, natural disasters can still have effects long after the storm has passed through making it even more important to prepare yourself. In the Philippines, Typhoon Haiyan cased months of difficult—and it isn't over yet. Get started today on your own preparedness plans so you can be as resilient as possible if a disaster strikes. Check out the following articles to help you develop a valuable
skill set
that will help you survive in the aftermath of a natural disaster. "
Preparing by Developing your Skills
" "
How to Build a Fire
" "
First Aid for Wounds
" "
Emergency Shelter
" Sources:
https://www.facebook.com/ActionHumanitarian