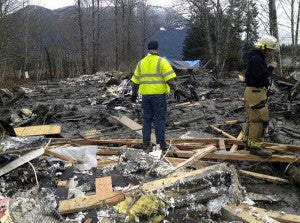 Imagine hearing a crack and then sliding from zero to 20 miles per hour in half a second while sitting in the front room of your home. That's how many described the massive mudslide that crashed through a neighborhood in Washington state on Saturday, March 22. As the mudslide rushed towards the homes below, people frantically cried for help. Evacuation teams immediately worked to rescue people from their homes, airlifting them from destroyed structures. One survivor spoke with the
Washington Post
about her experience: "I looked out the window, and I saw this huge wall of mud – must have been 20 feet tall. We went moving, and we were tumbled. I had a mouth full of mud, and nose full of it. We were under everything, and we had to dig our way out," said Robin Youngblood. "To all my family and friends in many parts of the world – we're all OK," Youngblood wrote on her Facebook page after the event. "We don't have a home at present, its only matchsticks, the landslide took it out with Jetty and I inside. It was a wild ride. We were airlifted out by helicopter after about an hour. The only thing that survived besides us is a painting called Night Warrior…" Read more stories from survivors from the Washington Post
here
. The rescue effort is still underway as volunteers search through the rubble. Right now the death toll is at 14, although emergency officials expect it to rise, and there are 176 people unaccounted for. Our hearts go out to all those suffering from this natural disaster. Landslides can be fast-moving or slow; they can cause damage gradually or destroy property and take lives in an instant. They can happen anywhere and for a variety of reasons (heavy rain and snowmelt, shaking due to earthquakes, volcanic eruptions, erosion, and gravity, etc.).
So what should you know about avoiding or preparing for landslides?
The
Red Cross
shares three tips to help you avoid or prepare for landslides.
Learn about your area's landslide risk. Landslides tend to repeat in places where they have occurred in the past. If the home you're hoping to build or buy is in an area where a landslide has occurred before, think seriously about choosing a different location.
During severe rainstorms, avoid roads that may be in the path of a land/mudslide. Heavily saturated ground makes the chances of a mudslide more likely.
Generally, landslide insurance is not available. However, some flood insurance companies may cover damage caused by debris flow. Check with your company and see how you can protect your home and personal property in the event that a mudslide does happen in your area.
Have you ever been caught in a mudslide before? What was your experience? What would you do differently if you could?
Photo Courtesy of the Washington Post Sources:
http://www.washingtonpost.com/news/morning-mix/wp/2014/03/24/the-fatal-mudslide-in-washington-what-was-it-like/
http://www.redcross.org/prepare/disaster/landslide