[caption id="attachment_21888" align="alignright" width="300"]
A village near the coast of Sumatra lays in ruin after the Tsunami that struck South East Asia.[/caption]
A December 26, 2004 tsunami
killed 230,000 people in countries around the Indian Ocean. It didn't kill 10-year-old Tilly Smith in Thailand, or her family and neighbors. She'd learned what tsunami water looks like from a geography class and was able to convince those around her to evacuate,
according to a Federal Emergency Management Agency report
. Children and disasters can be difficulty to prepare for. You might be afraid of scaring children, or you might not know what's age-appropriate. Yet studies agree that children who learn about disasters in a safe environment are less afraid during disasters,
according to the FEMA report
. Fortunately, you're not on your own. Many organizations have preparedness tools for all ages of children.
Infants and toddlers
These children aren't going to be able to help in a disaster. But you can help them by preparing beforehand. Make sure you have baby supplies like diapers, formula, pacifiers, and bottles in an emergency kit. Baby wipes are especially useful for cleaning both children and adults. Since kids this age outgrow their clothes absurdly fast, make sure you frequently check sizes of clothes and diapers in your emergency kit. When her children were infants and toddlers, Shelly Robertson, of American Fork, Utah, kept all her emergency supplies in two duffel bags. She also kept her everyday diaper bag packed so she could grab it and go in case of an evacuation.
Preschoolers
Robertson said she decided to reorganizer her emergency kit when she realized her children, ages 7, 5, and 2, were growing old enough to carry their own emergency supplies. She filled a backpack for each of her children with food, hand sanitizer or wipes, a whistle, glow sticks, and an emergency blanket. She also plans to insert cards with family information including emergency contacts and medical information. She showed her older children how to use the backpack's supplies. When her children are older, she plans to role-play different scenarios like what to do if Mom gets hurt or what to do if they get separated. Children's television can provide great resources for preparing young children.
Daniel Tiger's Neighborhood
is a preschool TV show based on characters from
Mister Rogers' Neighborhood
. In one episode, when a big storm hits the neighborhood, everyone stays safe. They follow a storm safety plan that includes sheltering in a safe place, making an emergency kit, and helping others clean up afterward. The episode also comes with
tips and games
. In 2015, Doc McStuffins, the title character of a Disney Junior show who repairs toys and teaches about life skills, starred in a one-minute public service announcement. In the episode,
Doc fills a pillowcase
with flashlight, clothes, blanket, and snacks, and makes an emergency plan with family contact information.
Elementary school students
Children's TV to the rescue. PBS Kids released an episode of
Arthur
, a cartoon for school-age children, in which the characters prepared for a hurricane and coped with its aftermath. A
companion web site
included games and tips for parents. After Hurricane Katrina, the New Orleans chapter of the American Red Cross developed the Pillowcase Project, a preparedness education program for children in grades 3-5. It encourages kids to prepare by packing a pillowcase of emergency supplies that they can quickly grab for an emergency evacuation. Disney produced a
public service announcement
for older kids and created a booklet starring Mickey Mouse and other characters from the TV show
Mickey Mouse Clubhouse
. [caption id="attachment_18437" align="alignright" width="300"]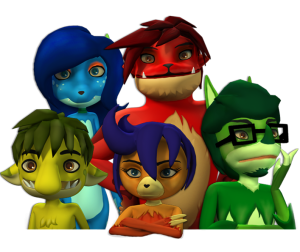 Monster Guard[/caption] The partnership also produced an app,
Monster Guard
, where kids ages 7-11 play games to learn about preparing for various types of emergencies. Parents can also get ideas about how to teach their children from
FEMA's emergency preparedness curriculum
for schools. Elementary-age children learn emergency preparedness tips and how emergencies impact their communities.
Middle and high school students
For slightly older students, FEMA's web site Ready.gov has a graphic novel-style game, "Disaster Master," to teach emergency preparedness skills. FEMA's middle school curriculum teaches students enough about disasters that they can
draw their own graphic novels
. Its high school curriculum helps students learn how to develop a public service campaign to
motivate community preparedness
. And, of course, there's always the U.S. Centers for Disease Control and Prevention's graphic novel, "
Preparedness 101: Zombie Pandemic
." Older children can also plan service projects like writing letters or making cookies for friends, or helping collect supplies for others in need. One recent garage sale in Orem, Utah, advertised, "All proceeds go to refugees." On
Arthur
, the title character built a web site to help pet owners reunite with their pets. "Helping can be incredibly healing and empowering," according to Ready.gov.
Melissa Rivera is a jack-of-all-trades who is master of none. She has been a writer and editor for more than 15 years.