[caption id="attachment_19105" align="alignright" width="300"]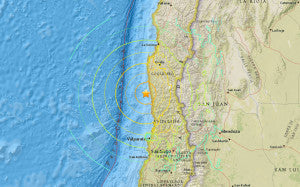 via The Telegraph[/caption] Yesterday afternoon, Chile was struck by an
8.3 magnitude earthquake
causing tsunami watches from California to Hawaii, Samoa, and New Zealand. A 15-foot tsunami was generated along the coast of Chile near where the earthquake went off,
forcing over a million people to leave their homes
and head for higher ground. The powerful Chile earthquake slammed the country, toppling buildings and knocking out power. Near the epicenter was widespread power outages, and cellular networks essentially collapsed in some areas. Running water is still off in some places. The entire city of Illapel, Chile was dark Thursday night, and, with their homes destroyed, thousands of citizens were forced to sleep outside. Earthquakes are a devastating disaster that are hard – if not downright impossible – to predict. When an earthquake strikes, the time for preparing is over. While this recent Chile earthquake is a real, heartbreaking disaster to those effected, we can still learn how to prepare from their experiences.
Power and Light
[caption id="attachment_19107" align="alignright" width="300"]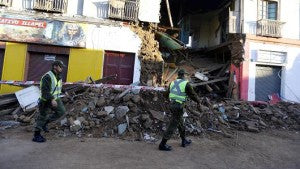 via CNBC[/caption] The Chile earthquake knocked out power in widespread regions following this earthquake. That means if those people don't have another source of light and electricity, they may be left in the dark for quite some time. It was already late in the evening in Chile when the earthquake struck, and the sun had probably finished setting. An earthquake is dangerous enough in the daytime. When it's dark and the power goes out, things can get even worse. In preparing for an earthquake, make sure you have extra light sources handy.
Flashlights
, head lamps, and other emergency lights are a must-have when it comes to earthquake preparedness. Tripping over rubble and debris in the dark can cause hurt and injury. If the earthquake doesn't hurt you, other things very well could.
Communications
Cell phone service became absolutely useless following the Chile earthquake. Networks were down, so there was no way to contact family, friends, or even emergency services. Without cell service, I'm sure many people were unable to receive the information they needed. Emergency communications, such as
radios
, can provide essential information when other forms of communication drops. Having an emergency communications plan can also help you Replace your loved ones following a disaster. If everybody knows where your family's emergency meeting place is, then you will all be able to meet up afterwards. Plan ahead, because you won't always have cell service when you need it.
Water
According to
Reuters
, running water was also hard to come by. Make sure you have a way to get water in an emergency. This could be from a
water barrel
, emergency water in cans, or by
water filter
. There are other options available, so do your research and know which method works best for you in your situation.
Shelter
[caption id="attachment_19108" align="alignright" width="300"]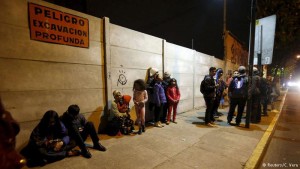 via Reuters[/caption] Thousands of people were forced to sleep outside after their homes were destroyed or badly damaged. Sleeping outside without shelter can put you at the mercy of the elements, and we've seen this before in Nepal and the
city of tents
that sprung up after their massive earthquake. If you're forced out of your home due to natural (or other) disaster, the last thing you want is for more natural elements to give you a hard time. Tents, both large and small, can be a great asset to your emergency preparations. If nothing else, emergency ponchos can at least keep you warmer than your shorts and t-shirt. Again, research your options, and choose what's best for your situation.
Warmth
[caption id="attachment_19104" align="alignright" width="300"]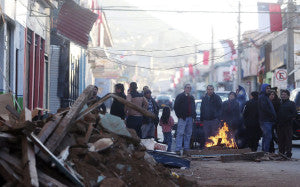 via The Telegraph[/caption] With the power out, you may be in for a cold night. In some
raw video
of the aftermath of this earthquake, people are shown around a large fire in the middle of the street. While it's great that they were able to start a fire to stay warm, that might not always be possible. Earthquakes may also hit during the winter, and a fire might not be good enough (although it would most certainly be better than nothing). From
big heaters
to
emergency blankets
and other sources of heat, you should have at least something on hand to keep you and your family warm should the power go out. In just a few moments, the people of Chile went from comfortable to out on the streets. Things can change in the blink of an eye, but if you're prepared with the gear and prep you need, emergencies such as this Chile earthquake won't be so bad. They will probably still be unpleasant, but at least you can be comfortable, safe, warm, and taken care of.
What is your must-have piece of emergency prep for an earthquake?