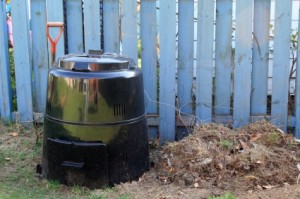 Think gardening is okay but composting just isn't for you? Here are some basics to get you drawing on the other black gold – compost that is, not Texas tea. This information was compiled from books we offer at Emergency Essentials,
The Sense of Survival
and
The Encyclopedia of Country Living
, as well as from informative websites (links included in article).
Tips for Beginners
Wait until your organic material is composted (decomposed) before you put it in/on your garden. Table scraps are great, but don't chuck them right into your garden. You'll learn why below.
Cutting your organic material into smaller pieces will speed up their breakdown. For example, instead of leaving the entire banana peel, tear it into fourths (or smaller if you have time).
Compost should be about as moist as a wrung-out sponge.
Four Basics
To compost, you need four basics:
organic matter, moisture, oxygen, and bacteria
. You provide the organic matter (and occasionally a little water as needed) and Mother Nature provides the rest. If you're building your composting piles on the ground, Mother Nature will also provide worms which are the best composters ever. They will help speed up the composting process by breaking down organic material, aerating, and fertilizing so don't get rid of them! But you don't just have to build your pile right on the ground. You can also keep your compost in a bin, and there are lots of different types of composting bins to choose from. If you do start your compost in a bin, layer it like lasagna. Make sure you add a bottom layer of soil, and a little water to keep the organic matter moist. Add your organic matter, and a little more soil on top. Turn it every two weeks. Also important – the bin should not be air or watertight. You definitely want oxygen to get in there and do its job. Add a few earthworms to your bin and voila!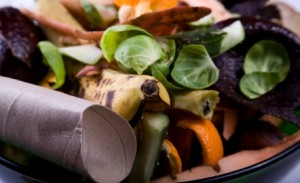 Choosing your Organic Matter
What NOT to put in your compost: meat, bones, dairy, and oil.
So your part of the composting partnership is to add organic matter. What can you put in and what should stay out? In general there are two types of organic matter;
green
and
brown
. Green organic matter would be table scraps (like your vegetables, egg shells, or coffee grounds) and lawn clippings. Brown organic matter would be stuff like manure, leaves, and twigs.
Surprising things you can compost: hair, paper, and dryer lint.
Keep a 1:1 ratio of green to brown organic matter. That balances the nitrogen (from green organic matter) and carbon (from brown organic matter). If your compost stinks, you probably have too much green matter. Add more brown organic matter to balance it out. And make sure that you always top your compost with a carbon (brown organic) layer, or a layer of dirt. There are a lot of items that you probably didn't think could be added to the pile but that actually
can
be composted. Here's an interesting post on
composting hair
. Dog and cat hair compost more quickly than human hair. If you are going to add hair make sure you spread it out – don't let it clump in one spot. We have a lot more information on composting for you, check back tomorrow to read
The Other Black Gold part 2
.