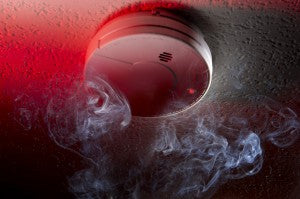 In Norfolk, Va., less than two weeks ago,
a fire gutted a home
and killed two pets. Yet the four people in the home all survived. The home had working smoke detectors. In Spokane, Wash.,
at the end of last month
, a fire killed a 3-year-old and the child's dog. Parents and three other children got out. The home had smoke detectors, but the batteries weren't working and had been removed. Daylight Saving time ended yesterday. But you can still take a few minutes to change the batteries in your smoke alarms and do a few other semi-annual tasks to prepare for home evacuation emergencies like fires. In the United States,
according to the International Association of Fire Chiefs (IAFC)
, three out of five deaths from home fires occur in homes without smoke alarms or working smoke detectors. Synthetic materials now used in home construction and furniture catch fire at a lower temperature. Their smoke is also more toxic. While 30 years ago you had 14 to 17 minutes to evacuate from a house fire, you now have two to three minutes, Underwriters Laboratories Consumer Safety Director John Drengenberg
told This Old House
. (
This Old House
has
a great piece
that breaks down the steps a fire goes through from small grease fire on a stove to a home fully engulfed.) "If you wake up to a fire, you won't have time to grab valuables because fire spreads too quickly and the smoke is too thick. There is only time to escape,"
according to ready.gov
.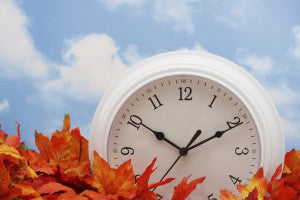 So, while you're setting back those last few clocks you keep forgetting about, change smoke detector batteries, and do a few other things too. Count smoke and carbon monoxide detectors, and replace any that are more than 10 years old,
suggests the U.S. Fire Administration (USFA)
. Also replace any that don't go off when tested. Every level of your home should have at least one, and the USFA suggests putting a smoke alarm in every sleeping area. You should test detectors monthly,
a brochure from Energizer and the IAFC says
. But if you're like most of us and forget, test them now. Same with cleaning dust and cobwebs off. Go ahead and do that now, too. Test them when family members are around so they can learn to recognize the sound. Twice per year – Daylight Saving time is a good way to remember – get with family members and review home evacuation plans.
Ready.gov
gives the following tips:
Replace two ways to get out of each room. You'll need a second way out if the primary route is blocked by smoke or fire.
Only purchase collapsible ladders evaluated by a nationally recognized laboratory, such as Underwriters Laboratory (UL).
Make sure that windows are not stuck, screens can be taken out quickly, and that security bars can be properly opened. Make sure all family members old enough to do so can open locked or barred doors and windows.
Practice feeling your way out of the house in the dark or with your eyes closed.
Teach children not to hide from firefighters, and teach them to stay low when trying to evacuate.
Also, make sure you've got a family meeting place away from the home.
Change batteries in other home safety and comfort devices, like thermostats and security systems. Many smart appliances use batteries. Keep flashlights by each bed, the brochure from the IAFC recommends, to help family members Replace the way out and signal for help. Change flashlight batteries around Daylight Saving time, too, since kids will have used them for reading, searching for lost items under the bed and playing flashlight tag. Get out 72-hour kits, and replace products that will expire in the next six months. Remember to check non-food items – batteries have an expiration date, too. Also, be sure to keep copies of important documents in a fireproof container or, even better, offsite or in cloud storage. Every year, home fires kill more than 2,500 people and injure 12,600 in the U.S, according to ready.gov. Whether you like Daylight Saving time or
think it should be abolished
, it can be a great reminder to protect your home and family from fire.