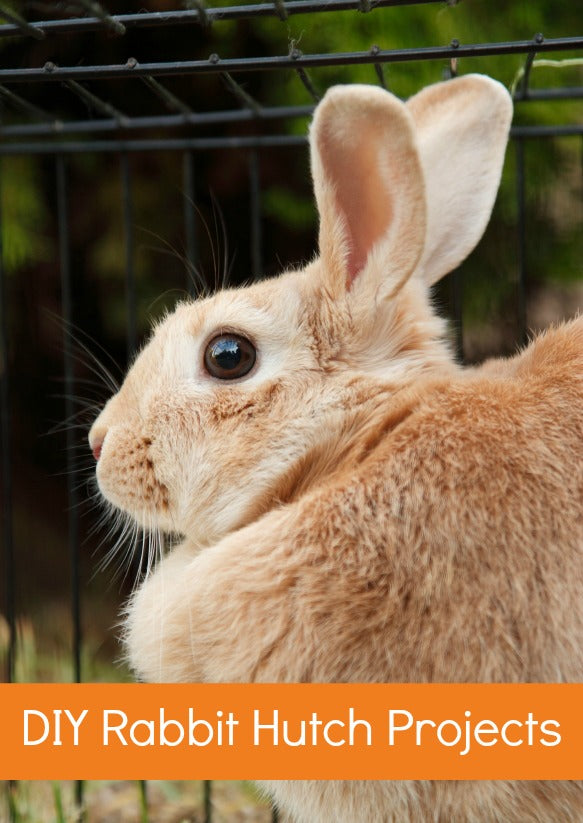 Once you've decided to
raise rabbits for food storage
, the next question to ask yourself is
where am I going to put them?
Since you are raising rabbits for self-sufficiency, and not as pets, it may be helpful to keep them outside to make that distinction clear (easier said than done, I know.) Traditionally, outdoor rabbits are kept in hutches. A hutch is a cage that is usually made of wood and is enclosed with wire mesh. Most hutches have tall legs to protect the rabbits from predators on the ground. You can also build a hutch without legs to keep on a table or, in warm climates, directly on the ground. Rabbit hutches are fairly easy to build and serve as excellent DIY projects to complete over the weekend. You can make hutches out of pallets, shelves, and even old dressers. Here are 5 great DIY rabbit hutch tutorials from the web to get you started:
Space is a very important factor when building a hutch. Since your rabbit will spend a lot of time there, it's important that they have enough room to move around. This hutch is a great example of giving your rabbits enough space: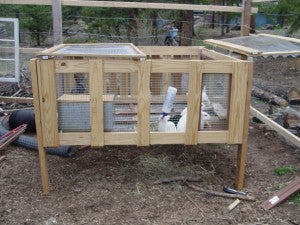 Photo Courtesy of Tinyhomesteaders.com
When building a hutch, it's important to have at least part of it enclosed so it will be dark enough when your rabbits need to sleep—or so they can hide if they feel threatened by predators.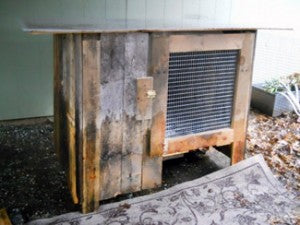 Photo Courtesy of Mother Earth News
Monsterguide.net "How to Build a Rabbit Hutch"
Since rabbit hutches require regular cleaning (we're talking on at least a weekly basis), make sure your hutch is built in a way that provides you with easy access to get the job done—like this one.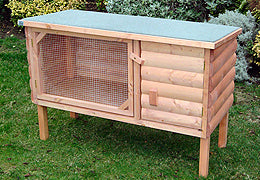 Photo Courtesy of Monsterguide.net
This step-by-step guide (with in-depth instructions and pictures for each step) is a great source if you want to build a hutch on the ground. Rabbit hutches built on the ground are better to use in warmer climates, but even then should provide a way for your bunnies to take shelter from predators or rain.
Photo Courtesy of Bettaliving.org
This hutch is made from an altered dresser. It's a great method for building a hutch if you live in an apartment or don't have yard space for a traditional hutch.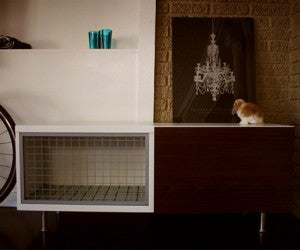 Photo Courtesy of DesignSponge.com
Looking for more tips on building a rabbit hutch? Check out these links: http://www.amillionlives.net/build-a-rabbit-hutch-protective-shelters-for-the-bunnies-dwelling.html
http://www.dummies.com/how-to/content/getting-a-hunch-about-rabbit-hutches.html
Have you ever made a rabbit hutch? What's the best setup you've found?