[caption id="attachment_19346" align="alignright" width="300"]
via Salt Lake Tribune[/caption] Hurricane Patricia, the most powerful hurricane ever recorded in the western hemisphere, quickly dissipated after it came ashore in western Mexico last Friday. Thanks to the rapid speed it traveled inland and where it landed – a mountainous, less-populous area – damage was far less than anticipated. Wind and water destroyed an estimated 3,500 buildings and crops like banana trees. But as of Sunday night,
only six deaths had been reported
. However, though Patricia is not even an organized storm, it's not done yet. Its upper level winds and moisture combined with another storm system are still causing flooding and tornadoes thousands of miles away along the U.S. Gulf Coast. Hurricanes can produce major inland weather events. Three things to prepare for are flooding, wind, and power outages. Inland flooding is common with hurricanes.
Ready.gov has some ideas
about how to prepare a home for possible flooding. First, make physical preparation to the home. Clean the gutters and drains. Elevate utility systems like the furnace, water heater and electric panel if they're in a place susceptible to flooding. Put "check valves" in sewer lines to keep floodwater from overflowing the pipes and causing a backup into the drains. Waterproof the basement. Have emergency building supplies on hand like plastic sheeting, plywood, tools, shovels and sandbags. If an area is susceptible to flooding, consider installing a
sump pump
(they're becoming more common in new homes anyway) or elevating the building. Second, buy flood insurance. Regular insurance will usually cover precipitation from above and wind damage. It won't cover water coming in from below. This year's strong El Nino climate system prompted FEMA deputy associate administrator Roy Wright to suggest Californians invest in flood insurance, according to an Associated Press story. El Nino typically brings heavy winter rain to California. More than one-third of California flood insurance claims in the last 27 years came during four El Nino years. Make sure to buy it early. Flood insurance doesn't take effect until 30 days after its purchase. [caption id="attachment_19347" align="alignright" width="300"]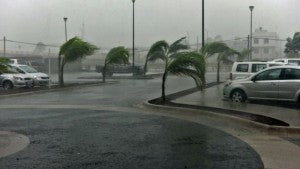 via BBC[/caption]
Preparing for wind
is a multi-step process, according to the American Red Cross. The first step is to remove diseased and damaged limbs from trees to make them more wind resistant. This may be done throughout the year. Second, watch weather forecasts. If there is a high wind advisory, store or tie down outdoor furniture, decorations, trash cans and anything else that wind can turn into a projectile. Third, during the storm, close curtains or blinds. If windows do get broken, this will prevent shattered glass from scattering in the home. Wind storms can lead to power outages. When Hurricane Ike traveled north from the Gulf Coast in September 2008, its high winds caused more than 8 million people in the Midwest to lose power. It was one of the largest natural disaster-caused power outages
in Midwest history
.
The Red Cross
,
ready.gov
and the
U.S. Department of Energy
suggest ways to prepare for power outages. First, have a fully stocked emergency kit including food and water, a flashlight, batteries, cash in small bills and first aid supplies. Second, keep a cell phone and other battery-powered devices charged and have an alternative charging method. Third, keep the car's gas tank full and know how to manually release an electric garage door opener. A vehicle can be a power source, but not in an enclosed space, unless carbon monoxide poisoning sounds like fun. Fourth, those who use a power-dependent or battery-operated medical device should have a backup power plan and tell their local utility so it can prioritize their home. Fifth, Replace out where to buy dry ice. Fifty pounds will keep a fully stocked fridge cold for two days. Without it, an unopened fridge will keep food cold for only about four hours. A half-full, unopened freezer will keep food cold for about 24 hours. Food in a packed, unopened freezer will stay cold for twice that long. Sixth, prepare for price increases. Hurricane Ike brought an "Ike Spike" in gas prices
all the way into Canada
. In July, former Hurricane Dolores caused record rainfall and flooding in southern California and Arizona. Yet the closest the center of the storm got to California was 300 miles west of Baja. At the time, it was just a post-tropical low-pressure center – too weak to even be considered a tropical storm. What was left of Dolores
went on to cause flash flood watches
in Nevada and farther inland. It just goes to show the value of preparing for a hurricane – even while living far away.