Within 50 years from now,
scientists predict
a large earthquake to strike Utah.
With a 43% chance of a magnitude 6.75 or higher within that time frame, those in Utah really don't have that much longer to prepare, all things considered. That's why ShakeOuts are held every year, to help prepare the people to be as safe as possible during an earthquake. Utah is the only state to hold a ShakeOut in April, whereas all the other states hold theirs in October. Thousands of students, businesses, and homeowners – nearly a million in total –
go through the motions
of dropping, covering, and holding on – the suggested procedure to avoiding injury during a quake. But no matter where you live, the same principles apply. Here's why we drop, cover, and hold on during an earthquake.
Drop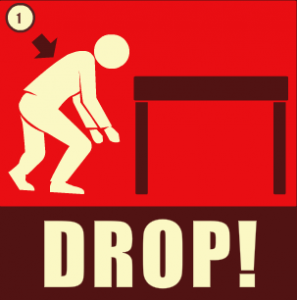 You never know how strong an earthquake is going to be. Even the first small jolt could be just the beginning of "the big one," in which case you most certainly do not want to be on your feet. When the earth starts swaying, you can be knocked down quite easily. This is, of course, dangerous. Don't wait to see if it's "the big one" or not. Get down on the ground as quickly and safely as you can as soon as you feel the quake. Do your best to avoid exterior walls, windows, mirrors, and areas where heavy objects could fall on you. If you're in bed,
hold on and stay where you are
. If you are outdoors, move to an open, clear area if you are able to safely do so. Steer clear of trees, power lines, and other hazards.
Cover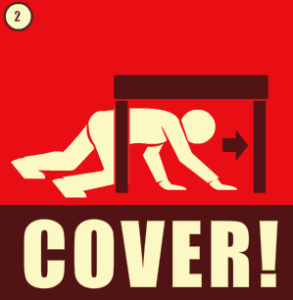 Once you've dropped safely to the ground, the next step is to protect yourself from falling objects. The best thing you can do is hide under a table or desk, but make sure your cover is sturdy. It won't do much good if your table will just collapse on top of you. If you don't have access to a desk, table, or similar shelter, then use your arms to cover your head and neck. Those two areas can be the most dangerous if struck by falling objects. Contrary to popular belief,
standing in a doorway is not recommended
. In modern homes, doorways are just as stable (or weak) as the rest of the home. There is also always a danger of flying objects caused by the earthquake, and by standing in a doorway you are opening yourself up to that danger. So stay down, and stay covered!
Hold On
Earthquake do just what their name implies – they shake the earth violently. If you're not holding on to something during this shaking, you could be jolted around, thereby causing you more harm and injury. If you're under a table or desk, grab hold of the legs or brace yourself against your cubicle walls (if you're in an office). Once the earthquake stops, don't run. Violent aftershocks could knock you off your feet. Once outside, again, stay away from power lines, trees, buildings, signs, and other potential hazards should another tremor come and knock things over. Being safe in an earthquake means starting now to prepare. Fasten down any objects that could fly off the walls or shelves. Anchor book cases to the wall. Replace potential dangers in your home and take care of them. If you have a mantle over your bed, don't keep any heavy objects on it, as they could fall on you during an earthquake. Likewise, prepare now with emergency food, water, gear, and other supplies. If an earthquake is strong enough, you could be left without those basic necessities, so at least have a 72 hour kit will keep you going until more help can arrive. Take the time today to prepare for an earthquake. They come without warning, and once they do, it's too late to prepare. Just remember to drop cover and hold on!