Disasters can happen anywhere at anytime. When they do occur, they can completely change the way you live your life. But to make the situation easier for you and your family, we recommend storing some "comfort foods."
A Sense of Normalcy
Studies have proven how our emotions can affect our bodies. For example, foods high in sugar or food associated with pleasant memories can cause the release of certain chemicals that affect how we feel. Normalcy should be a priority in preparing our families for an emergency. In American culture, sweets and desserts are associated with good times and celebrations (birthday cakes, holiday pies, and sweets). Desserts can naturally act as a mood enhancer. During hard times such as extended unemployment, food shortages, or during the aftermath of a natural disaster, sweets remind people of better times and give them a sense of normalcy and comfort. If your family enjoys desserts, you may want to have some sweet food to eat after your emergency meal to help comfort them. It can be a reminder, especially to children, that everything is all right and good times are ahead.
Food storage variety has come a long way in recent years. Many common just add water mixes are now available packaged for long-term storage. Some of the possibilities include: -
Instant pudding mixes
( chocolate, vanilla, butterscotch, and more) -
Brownie mix
-
Hot chocolate mix
-
Fruit drink mixes
-
Muffin mixes
-
Cookie mixes
-
Freeze-dried ice cream
-
Banana Chips
Hard candy can also be purchased and if stored in a low-moisture container in a cool place can store for a long period of time. If you usually bake your desserts from scratch, make sure your food storage contains the basic ingredients for making pies, cakes, cobblers, and cookies. Most everything for basic baking is available packaged for long term storage and is made to adjust easily to any recipe.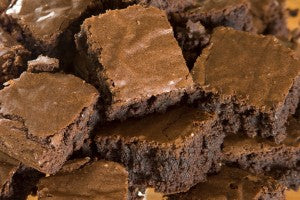 Some of the basic baking ingredients you'll want to have stored include:
-
Butter or margarine powder
-
Dehydrated egg and egg whites
-
Instant dry milk
-
Baking soda
-
Baking powder
-
Sugar
or
honey
-
Wheat
and
white flour
Other Baking Essentials
There are other baking aids that you will want to have in your food storage that are not normally packed in a #10 can. Some of these foods can be packed in airtight containers to maintain a reasonable shelf life. Your food storage will be enhanced by spices such as cinnamon, nutmeg, and ginger; extracts like maple, lemon, or orange; as well as syrups,
cocoa
, and
vanilla
. Again, your dessert food storage should reflect your family's preferences and eating habits.
Food Storage Ingenuity
Lastly, if space or economic factors limit your dessert food storage, try to store some things that perform double duty. Dried fruits should be stored as part of a balanced diet but are also sweet and can be used to make cobblers and pies. Peanut butter powder can be used in cookies and cakes. And, if you have some food recipes and creative ingenuity, the basics (
flour
,
sugar
, oil and
milk
) can be used to make simple cakes and puddings. Desserts in your food storage program will meet two important principles in food storage. They will give variety to your food storage supplies and they will make your food storage more closely resemble your family's diet. We hope this information has provided some useful reasons why storing "comfort foods" is recommended in any food storage plan.