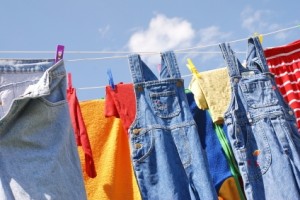 Back in the good ol' days when DIY was just the way we all lived, people made soap with lye and ash and pig fat. Well, thankfully, DIYing has transitioned into something a little less time consuming, still as satisfying, and probably more effective. Of course, this DIY is not completely from scratch. You'll still purchase the ingredients for this DIY laundry detergent. But you'll have the satisfaction of learning a new skill and making a good detergent for less money than you can buy it. The benefits of DIY laundry detergent? It's cheaper and uses less harmful chemicals. And it smells so darn good… We suggest mixing everything in a 4.5 gallon bucket and then keeping some in a 15.9 cup Snapware container on your laundry shelf. Here are our two "recipies" for laundry detergent; one powder, one liquid.
POWDER LAUNDRY DETERGENT
Mix:
- 2 boxes (or 32 oz) of baking soda; Approximate cost = $1.24 - 2 boxes (110 oz) washing soda; Approx cost = $6.34 - 1 box borax (76 oz); Approx cost = $11.35 - 3 Castille Soap bars (12 oz), grated (or substitute with Ivory soap. It smells better.); $5.97 (Castille) - 1 Fels Naptha Bar (5.5 oz), grated = $.97
Tips:
We recommend using 2 TBS per load of laundry, you can add more if you feel like it. This recipe makes a lot, so if you just want to test out one load's worth, cut the recipe accordingly. (One load = 2 TBS of washing detergent.)
Chopping soap bars up is easier and faster than grating, but you'll have chunks of soap that won't dissolve as easily as grated pieces. Consider dedicating a grater to soap (ie don't use it on your cheese!).
You can make your own washing soda.
You can tailor this recipe to your family's favorite scents with add –ins like essential oils.
You'll Replace everything you need in the laundry detergent aisle, except for the baking soda which you'll Replace in the baking aisle. And, yes, this homemade detergent can be used on front-loading and HE washers. Some users say you can add it directly to the drum, others say to mix it with a little hot water first and then add it to the drum, and another suggested removing the liquid detergent tray and then putting in your homemade powder detergent normally. According to my friend Alissa, this DIY laundry detergent will do at least 2 months' worth of laundry, depending on how many loads you do. She's washing for a family of five (including one newborn) so she's doing one to three loads of laundry
daily.
If you're washing less frequently, expect a batch this size to last longer.
LIQUID LAUNDRY DETERGENT
Mix:
-
1 Fels Naptha Bar (5.5 oz), grated
- 1 cup washing soda - 1 cup borax (8 oz) - 5 gallons HOT water
Directions:
Add grated Fels Naptha to one quart hot water. (Make sure it's hot.) Mix until soap is softened, then blend 1 cup at a time in blender on low to mix well.
Fill the 5 gallon bucket half-full with hot water. Stir in the blended Naptha mix; add the washing soda and Borax. Add the rest of the hot water (to fill the bucket) and stir again.
Tips:
Mix everything in a 5 gallon bucket; make sure it has a lid!

Use a long handled mixing spoon, large paint stick, or other suitable item for stirring.
This liquid mixture will thicken, so don't worry when that happens.
Fill a jug with half of the liquid laundry detergent and half water. Keep it on your laundry shelf for easy access.
Or, don't dilute with water and use half of the amount recommended below.
This liquid detergent works well in HE machines because it doesn't create suds.
To Use:
1/2 cup per load for top loaders 1/4 cup per load for front loaders Let us know how it turns out for you or if you've got a favorite DIY laundry detergent "recipe" you'd like to share!