Emergency Essentials: Proud to Bring Mountain House to You
Did you know that Mountain House is the number one, premier brand of freeze-dried meals on the market? And did you also know that through the whole month of March we're offering all
Mountain House freeze-dried meals for 25-50% off
? And did you further know that we guarantee the lowest prices on Mountain House in the country? I know I just blew your mind, but stick with me. I had the chance to speak with our President, Matt Nettesheim, about the Emergency Essentials-Mountain House relationship and why he feels so strongly about providing this kind of quality product to our customers. He gave me about a gazillion more reasons to love this brand. [caption id="attachment_17704" align="alignright" width="300"]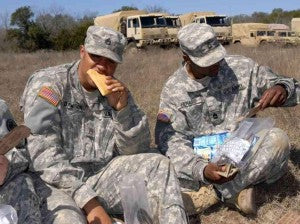 Mountain House has been feeding our soldiers for almost 50 years.[/caption]
So, what's so great about Mountain House?
"They've been doing this for a long time," Matt says. Since the Vietnam War, to be precise (check out the company's fascinating origin story
here
), and that history shows. As Matt explains, Mountain House's work with the US military has resulted in freeze-dried, shelf-stable food that meets extraordinarily rigorous quality specifications. Not only that, but Mountain House continues to conduct scientific testing on factors like shelf life—so when the company claims their #10 can will last 25 years, it's legit. All those things are important, in a label-reading kind of way. But what's the real distinction? One word:
taste
. "They have taken just-add-water meals to a new level," explains Matt. "A lot of places might take a freeze-dried meat, add a dehydrated sauce blend and some dehydrated noodles. All the ingredients are there, but they were never together until they were put into the can." By contrast, the savory portions of most of Mountain House's meals are completely prepared, ingredients fully mixed and flavors blended, prior to freeze-drying. Then, just as you pour sauce over noodles or rice at home, the freeze-dried meats and sauces are poured over instant noodles or rice and sealed in pouches and cans. "That process has set Mountain House apart for being able to provide fast and easy meals that are also as good as homemade," says Matt. "Millions love 'em."
But I've already got basic ingredients in my food storage. Why do I need Mountain House?
I may have a varied and impressive array of ingredients in my food storage. But the harsh truth is that in the immediate aftermath of an emergency, while my children are frightened and the future is uncertain, the last thing I'm going to want to do is cook. As Matt points out, needs and priorities vary. Everything from personal taste to culinary skill to financial constraints come into play when we consider an emergency food storage. "Gathering the basic pieces—wheat, beans, fruits, vegetables, those kinds of things—is probably the most economical way of doing things, but it also requires the most time and effort from the consumer." [caption id="attachment_17702" align="alignleft" width="175"]
All you need is hot water and a fork.[/caption] The trade-off that Matt refers to here becomes powerful when we compare the equipment required to make use of traditional food storage ingredients (pots and pans, portable stove, oven, utensils, wheat grinders, etc.) versus Mountain House's freeze-dried meals (hot water, fork). I'm especially enamored of the
Mountain House pouches
that act as their own serving dish. Truly, when ease, convenience, and speed of the essence, there's no better option.
Okay, I'm convinced. But how do I rotate these babies? Are they good for anything other than disaster relief?
When I asked Matt if Mountain House meals worked well for eating at home, he said , "We'd have Mountain House at home all the time…if I was in charge of dinner." [caption id="attachment_17700" align="alignright" width="217"]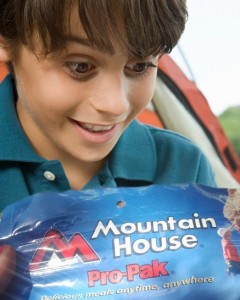 Mountain House is a huge favorite for outdoor meals.[/caption] Matt's wife may be a gourmet, but as for me? This harried working mom thinks he may be onto something. Late meeting? Overlapping activities? Pinterest recipe fail? I can think of a million reasons I'd appreciate a quick weeknight meal that doesn't come wrapped in paper with a cheap toy. A little more seriously (okay, I really was serious about that Pinterest thing), Mountain House is the preferred meal for camping, hiking, and other outdoor adventures. Lightweight and with minimum gear requirements, the pouches are ideal for backpacking and car camping alike. In fact, Matt tells a great story of bringing Mountain House meals on a large group canoe trip: while everyone packed their own meals, by the end of the trip, the others were throwing their pre-packaged food away and begging for Matt's leftovers. A dozen hungry Boy Scouts can't be wrong!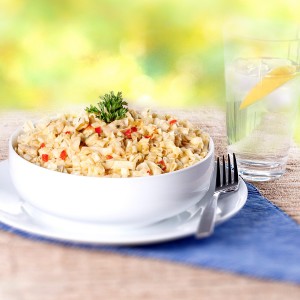 Matt's picks?
"Beef Stroganoff and Noodles and Chicken—those are probably my two favorites," Matt gushes just a little. And the Breakfast Skillet, which he eats in MRE tortillas like a breakfast burrito. "Oh, and the Granolas and Blueberries! Oh, and…!" There you have it. Matt's personal endorsement, the highest endorsement we can give. And if you don't want to take Matt's word for it (though he really is a nice guy), there's no better time to try Mountain House for yourself. Cans, pouches, kits, and collections are on sale all month—hop on over and Replace your favorites!