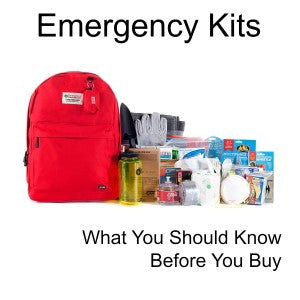 Emergency Kits are a crucial part of your emergency preparedness and planning. So, let's talk about the things you need to know about emergency kits--and the questions you should ask yourself--before you start shopping.
Things to be aware of:
Items in your kit won't all have the same expiration date. Some companies label their kits as having a 25 year shelf life. But some items in the kit will expire sooner, no matter the kit (especially if it contains food packed in pouches and First Aid wipes or ointments).
Some people say that you should buy never buy a pre-made kit. But, in reality, it depends on what your specific needs are.

Pre-made kits can be comprehensive, useful, and can ultimately save you money. They also get you the things you need in one fell swoop--great for those of us who don't want to (or just won't) take the time to put a custom kit together ourselves.
Custom-building your kit, however, can be a great way to get exactly the items you want in the style, flavor, color, etc. you prefer. It can also be a great choice if you want to upgrade certain components.

Some companies actually charge you MORE for putting individual items together into a kit. But Emergency Essentials' kits cost LESS than if you bought the individual components separately. As it should be.
We have spent years working with experts and disaster victims to see exactly what items should go inside our kits. We've got the crucial gear you'll need to get through the first days of an emergency. And at the very best prices available. We [guarantee] it.
Some kits do not account for the true calories per day for food in the kit for the amount of people it covers.
We're transparent about our kits. We tell you the shelf life of certain items upon purchase so you know when to rotate them out of your kit.
Make sure you purchase or build a kit that your children can "grow into." Choose something that is flexible enough to meet their changing needs over a period of five years or longer. For example, if you have a newborn, don't buy a tiny bag that's only big enough for some formula, some diapers, and infant-sized clothes—otherwise you'll have to develop or buy a new kit for them every 6-12 months!
We won't overcharge for an item that may not be name brand or top of the line, but which is still very good for serving your specific needs in an emergency.
If you only plan to use your emergency supplies in a short-lived emergency, lower-end items can work just fine.
If, however, you plan to use your emergency tools regularly, or you're expecting a long-term crisis, then you may want to upgrade certain elements of your kit (multi-tools, knives, ponchos, etc.)
Questions to Ask Yourself Before You Buy:
How many people are you planning for?
What's your budget?
How much weight can each of you carry?
What custom items need to go in each kit? (Consider special needs like injuries, age [infants, elderly], disabilities, etc.)
Where do you plan on storing your kit? (Calorie food bars do well in cars or in hotter temperatures; MREs do better in cooler temperatures.)
Is there enough water or water treatment supplies?
Is the backpack of high quality? Will it be able to support the weight of your items without breaking? Will it be comfortable enough for you to wear if you have to evacuate on foot?
What are your food preferences? And will the kit supply you with those needs? (if you are looking for more protein options or specific nutrients a kit with calorie food bars may not be for you)
What sorts of weather conditions commonly happen in your area? If you live in a hotter climate, you may want cooling items like instant ice packs; you may want more warmth items if you live in a cooler area; add ponchos if rain or snow is common)
Do you just want the kit as an "insurance policy," meaning you just want to have a kit and know that it's there? If so, you may be okay with all the supplies that come in a pre-made kit. You should still be aware of what's included so you're not surprised by or unfamiliar with the kit contents when it's time to use them.
Are you interested in using the components of your kit on a regular basis? In that case, it may be a good idea to upgrade some of the components (like a knife, multi-tool, or poncho).
Want to assemble your own kit? You can either build your own from scratch or purchase the basic emergency kit and then add in the specific items you're looking for.
We offer
emergency kits
ranging from very basic to comprehensive. Check them out online, or give us a call (1-800-999-1863) and bounce ideas off of our Preparedness Experts. You can even make an appointment for a custom consultation by calling or clicking here.