I read two books recently that have a lot to do with emergency preparedness.
The Martian
, by Andy Weir, is a fictional story of how a marooned astronaut would survive on Mars for more than a year.
Grunt
, by Mary Roach, is a clever non-fiction look at the science behind military preparedness. In both books, protagonists (fictional astronaut; real soldiers) must come up with ways to survive where conditions are more likely to injure or kill than a physical enemy. Weir's astronaut, Mark Watney, had to jury-rig every resource he could Replace to provide enough power, water and food for him to survive until rescue. In
Grunt
, Roach described how during the 1848 Mexican War, seven U.S. soldiers died of disease for every one killed by injury (144). A natural disaster could turn any place into a hostile environment. But I don't know anyone with the resources of NASA or the U.S. Department of Defense. Do you? Fortunately, there's this time of year. "I've started a new tradition. Every Christmas, I give my children and grandchildren…something new to add to their emergency kit," said Maralin Hoff, from the Division of Emergency Management in the Utah Department of Public Safety at a 2010 emergency preparedness expo
shown on YouTube
. Between Black Friday, Cyber Monday, and general holiday sales, you can get a great deal of emergency equipment at a decent price. That's how Shelly Robertson, of American Fork, Utah, built her emergency kit. "Really, it's all about having a budget," she said, adding that she asks for emergency supplies for Christmas gifts. Let's look at some of the resources that might help astronauts or Special Forces soldiers or you survive in inhospitable situations. Like food. In
The Martian
, astronaut Watney had to ration his food to survive until rescue. By the end of the book, he was drinking "Martian Coffee" – a caffeine pill dissolved in water – and subsisting on potatoes and vitamins. Emergency Essentials, of course, has plenty of
preserved food to choose from
. Clean water and sanitation was an even greater concern to Watney. He had to make water through a potentially explosive process that involved pulling hydrogen atoms from rocket fuel and oxygen from the carbon dioxide-laden Martian atmosphere. For sanitation, he had to do his business in pouches or buckets, preferably ones with tight-fitting lids. [caption id="attachment_22399" align="alignright" width="224"]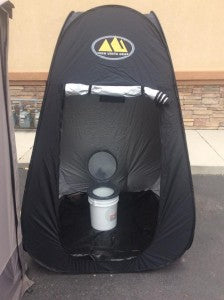 Tote-able Toilet in a Pop-up Shelter[/caption] Emergency Essentials sells the
Tote-able Toilet
kit: a six-gallon bucket with a snap-on seat and two enzyme packets. Soldiers face clean water and sanitation problems too. Almost a third of U.S. military personnel in Iraq in 2003-2004, for example, didn't have access to safe food and water, according to a survey in
Grunt
. Seventy-seven percent of combatants there came down with diarrhea. "Service members are travelers—in places where you don't want to be drinking the water," Roach wrote. If you haven't already, get a way to filter water, preferably one that will let you use the water for cooking as well as drinking. If you want to go really high end, you can get one
from Katadyn
for $1,499.95 that will clean up to 4 liters per minute, the Katadyn Expedition Water Filter System. Or you can go to Emergency Essentials, which sells several, including the the Katadyn Vario Water Filter that's $79.99 at the time of this posting. Don't plan on boiling water to purify it. You can't do that without power. Soldiers must carry a lot of batteries, according to Roach. They need so much power, in fact, that the military is looking into uniforms containing photovoltaic panels, or as she described it, "shirts that can recharge a radio battery." People in Puerto Rico have found batteries and generators to be vital tools too. One man wired car his lights to car batteries, according to the Los Angeles Times. Most hospitals there still
run on generators
. Emergency Essentials carries
many types and sizes of power generators
, from personal chargers to appliance power systems. And hopefully you'll never have to use any of these preparedness tools on Mars or in a war zone.