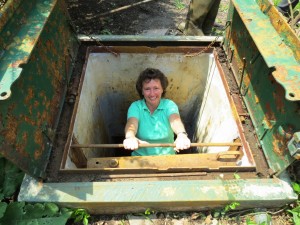 After living in their home for 10 years, a Wisconsin family was surprised to Replace an 8' x 10' fallout shelter in their backyard—even more surprising is that it was fully stocked! Ken and Carol Zwick cracked open the shelter for the first time in 2010, revealing $1,200 worth of emergency supplies stored by the home's previous owners who were prepping for the Cold War.
Inside the Shelter
The Zwick family donated the supplies to the Neenah Historical Society (NHS) in the spring of 2012. According to the NHS website, the purpose of this society is to "collect, preserve, and share the stories of [their] community." We reached out to NHS Executive Director, Jane Lang, to learn a little more. We were curious about the types of preparedness supplies the people who stocked this fallout shelter considered to be important to their survival 50 years ago. Although 5 feet of water seeped into the shelter during its 50 years of life, the Zwick family found many of the supplies still intact. Foodstuffs and treats like Tang, Corn Flakes, and Butterscotch Bits were found among other supplies such as toilet paper, paper towels,
candles
, clothing, bedding,
tools
,
flashlights,
and
batteries
(most of which were surprisingly still in good condition). But the previous owner didn't stop there. Other supplies like a
radio
, an alarm clock, an
axe
, a funnel, and a phone book filled the water-tight, metal military boxes the Zwicks discovered. These World War II army surplus cases no doubt helped preserve the condition of the family's emergency supplies.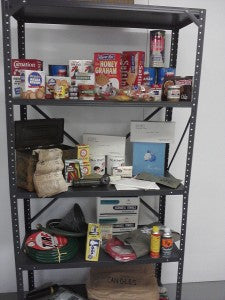 Items in your emergency supplies can range from the basics of
food
and
water
to items such as an alarm clock to help an emergency seem less like a crisis and more like daily life. One great item the previous owners added to their shelter was the phone book. Having a list of emergency phone numbers/emergency contacts is a great idea (as long as you keep it updated). According to Lang, one of the neatest items found in the shelter was a Geiger counter in perfect condition (still inside its box with the manual) and a "Banshee" radiation detector with its receipt. "It was fascinating to look at the contents of the shelter and see what people in 1960 were told to put into their family fallout shelters," Lang stated.
The Exhibit
The NHS exhibit, "Take Cover, Neenah: Backyard Family Fallout Shelters in Cold War America" replicated the shelter found in the Zwick's backyard. "I wanted visitors to be able to feel like they were back in the '60s, sitting in their own living rooms, and then leaving to take cover in their backyard shelter…so that people could get a true sense of that confinement," Lang said. Lang went on to explain that in the late '50s and '60s, emergency preparation was greatly encouraged. As many visitors have toured the replicated fallout shelter and its supplies (1,500 in May and early June 2013 alone), they've wondered aloud whether we are "more or less safe [today] than we were during the Cold War." Although in certain areas many people aren't as concerned about war as natural disasters, unemployment, or other emergencies, emergency preparedness is still essential. After all, Lang put it perfectly: "Human beings have always been and will always be concerned with family safety and security." Currently the exhibit is closed for the winter, but will re-open in late April. The exhibit will close for good in late July this year. If you are in the area, stop by to check it out.
If You Go:
Cost: Free Location: 343 Smith Street, Neenah, WI 54956 For more information about the exhibit and when you can visit, feel free to call the Neenah Historical Society at 920-729-0244
Update:
A few of you have requested more photos of the fallout shelter found in Wisconsin so we found some for you! Below are photographs we found on the Internet of the Zwick family uncovering the shelter.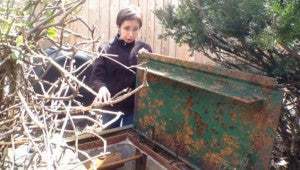 Courtesy of Daily News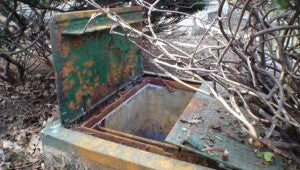 Courtesy of Daily News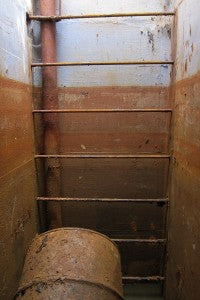 Courtesy of Huffington Post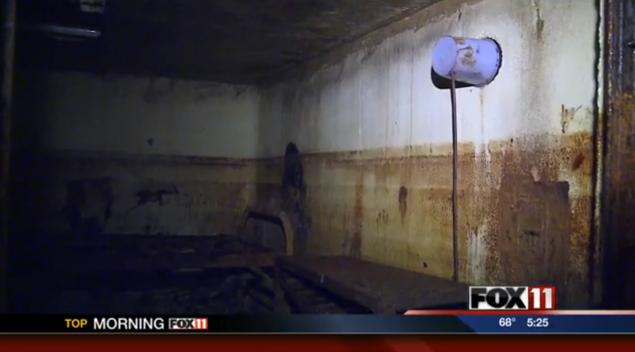 Courtesy of the Daily News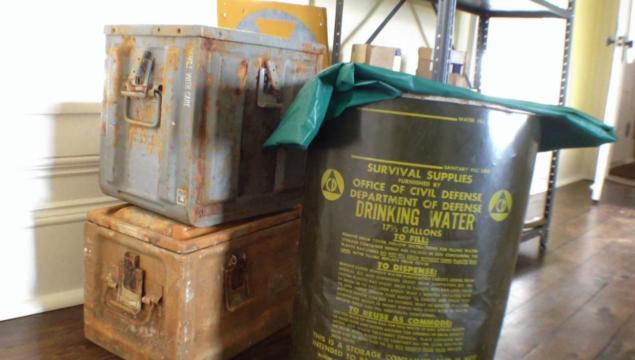 Courtesy of Daily News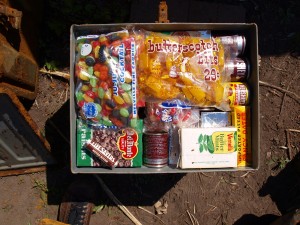 Courtesy of Huffington Post
--Kim Sources: Interview with Ms. Jane Lang, Exec. Director of the Neenah Historical Society
www.nydailynews.com/news/national/wisconsin-family-found-1960-nuclear-shelter-article-1.1333040
http://www.huffingtonpost.com/2013/05/02/neenah-wisconsin-fallout-shelter-photos_n_3200757.html