By Melissa Rivera [caption id="attachment_22153" align="aligncenter" width="500"]
Devastation in Puerto Rico from Hurricane Maria - Image via CNN[/caption] Hurricane Maria blasted Puerto Rico on Wednesday, Sept. 20, killing at least 10, destroying 95 percent of cell towers, knocking out the whole island's power grid, and flooding some areas so fiercely rescuers still can't reach them. It was the worst hurricane to hit the island in 90 years. And it passed right over the top of my husband's mother, Ruth Lezcano, and brother, Gerry Rivera, who live in Bayamon, P.R., a suburb of San Juan, P.R. Though we tried calling and texting for days, we didn't hear anything from them until Sunday night. "Everything looks like an atomic bomb was dropped here. There's no other way to describe it," Gerry wrote in a text. I immediately texted him back. His response took an hour. "Communications here are totally jammed. We are [incommunicado]. I'm [on] the roof and there's a little signal here. All the towers from all the carriers are down," he texted. Their home was flooded, but not badly. Gerry wrote he was quickly able to get the water out. Since the home is cement, it withstood the hurricane's pounding and the flooding didn't cause structural damage. The greater struggle is what's to come. Gerry estimated power could take three months to be restored. He and Ruth charge cell phones using Ruth's car charger. To get cell service, he said he must climb on the roof of their home. He said he walks to get potable water every other day. Ruth has had multiple heart attacks, strokes, cancer, and diabetes. We're all worried about her health. The abundance of natural disasters should have put us all on alert that we need to be prepared. Here are some things I've learned from texting with Jerry. First, get an emergency radio. It was interesting. The first thing Gerry asked when he texted was, "What does the news say about Puerto Rico?" The easy information flow that we all take for granted is hard to come by in this U.S. territory right now. In Arecibo, P.R., downstream of the Guajataca Dam, which was threatening to breach, there was no phone service or Internet access. Desperate residents tried to get information from the dam from each other and city officials. [caption id="attachment_22154" align="alignright" width="300"]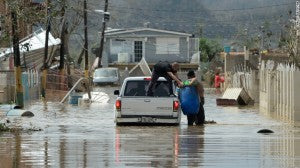 Residents evacuation following Hurricane Maria in Puerto Rico - Image via CNN[/caption] Second, have plenty of potable water. Remember that you'll need it for everything: drinking, washing, cooking, and bathing. Third, keep backup copies of your prescriptions and enough prescription medication on hand to last several days or weeks, if possible. Have a way to contact your doctor and a backup plan if you think you might need medical care. Fourth, if you have a medical need that requires you having power in your home, do everything possible to get a backup generator. Right now. If you must keep medications cold, you'll need a generator. If you need to run powered medical equipment, you'll need a generator. If you're older or have young family members, they'll need some kind of climate control. You'll need a generator.
Remember the Florida nursing home
where residents died because of the heat after Hurricane Irma? You do not want that to happen to your family. If you want to help Puerto Rico and other Caribbean islands that were smashed this hurricane season, check out these sites:
https://www.buzzfeed.com/amberjamieson/how-to-help-after-maria?utm_term=.xadbOVGmo#.nr8NRbX4J
http://www.huffingtonpost.com/entry/puerto-rica-hurricane-irma-maria_us_59c7f699e4b06ddf45f89c7a
Melissa Rivera is a jack-of-all-trades who is master of none. She has been a writer and editor for more than 15 years.