Throwing a party for the big game? Still don't know what to make for snacks? Cheer the Seahawks or Broncos on in style this Sunday by making these four food storage recipes that are sure to please a crowd.
Corn Salsa
1 Cup
Provident Pantry Freeze-Dried Super Sweet Corn
1 Cup
Provident Pantry Black Beans
¼ Cup MyChoice Chopped Onions 1 Cup
Provident Pantry Freeze-Dried Tomatoes
½ Cup Avocado 1 ½ tsp MyChoice Tomato Powder A pinch MyChoice Minced Garlic Fresh Cilantro (to taste) Provident Pantry Iodized Salt (to taste)
MyChoice Mesh Black Pepper
(to taste) Lime juice to taste
Word of Advice:
I've found that the best way to cook dried black beans is to soak them over night the day before you cook them. This method ensures that your beans will be tender after they cook and ready to eat when your guests arrive. Check out the blog "
veggietativestate
" to pick up some tips and benefits of cooking with dried beans and ways to reduce their . . . ahem . . . gaseous side effects.
Red Salsa
1 Cup
Provident Pantry Freeze-Dried Tomatoes
½ tsp MyChoice Minced Garlic ½ Cup Provident Pantry Freeze-Dried Green Bell Pepper Dices Lime Juice (to taste. I put in 1 tsp) A Pinch of Provident Pantry Iodized Salt A Pinch of
MyChoice Mesh Black Pepper
¾ tsp Provident Pantry Tomato Powder
Word of Advice:
To give your red salsa a more intense tomato flavor add Tomato Powder. In addition to Tomato Powder, you can also include Tabasco sauce, hot sauce, or Jalapeno peppers (if you have them) for a hot and spicy salsa.
Meatball Sandwich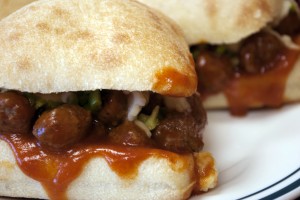 Makes four servings:
1 ½ Cup reconstituted Provident Pantry Freeze-Dried Italian Meatballs 2 cups MyChoice Barbeque Sauce Mix 1/2 Cup
Provident Pantry Mozzarella Cheese
1/2 Cup Provident Pantry Green Pepper Dices Ciabatta Rolls
Directions
Reconstitute meatballs according to directions on the can (our serving of meatballs took us 30 minutes to make).
Meanwhile reconstitute the BBQ sauce in a saucepan on the stove.
Reconstitute cheese and green peppers.
When meatballs have reconstituted, combine with the BBQ sauce and turn heat to medium to warm the mixture up.
Add a ½ cup of meatball mixture to a Ciabatta roll. Top with green peppers and mozzarella cheese.
Word of Advice:
I know what you're thinking . . . "30 minutes to reconstitute meatballs, that's crazy?!" Instead of trying the traditional "soaking method" for reconstituting meats, boil a pot of water. Once the water is boiling, put your meatballs into the water. Turn off the heat and let the meatballs sit in the pot for 10-15 minutes or until tender.
Semi-Sweet Prepper-Style Muddy Buddies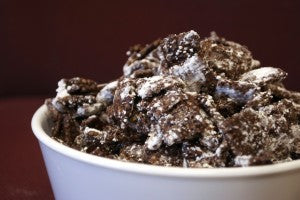 9 cups Rice Chex, Corn Chex, or Chocolate Chex cereal (or any combination) Semi-sweet Chocolate (see recipe below) ½ cup reconstituted
Provident Pantry Peanut Butter Powder
¼ cup reconstituted
Provident Pantry Butter powder
1 tsp Imitation Vanilla Powder 1 ½ cup Provident Pantry Powdered Sugar
Chocolate Recipe
½ cup reconstituted
Provident Pantry Butter Powder
¾-1 cup MyChoice Baking Cocoa ¾ cup Provident Pantry Powdered Sugar 1/3 cup
Provident Pantry Instant Milk
In a medium-sized bowl, gradually mix the cocoa powder into the reconstituted butter. Stir until blended and mix until it becomes a paste.
Microwave paste in 10 second intervals, stirring each time, until it's smooth and creamy (be careful not to burn it)
Gradually blend in milk and sugar. Mix well until the paste is smooth and creamy. Taste, and adjust with more sugar if necessary.
Put chocolate to the side until ready to use for Muddy Buddies.
Word of Advice:
For a sweeter chocolate, add more powdered sugar (to taste) until you reach the desired flavor. I added ¾ cup gradually and the chocolate was closer to a "dark chocolate" flavor—more bitter than sweet. Once combined with the peanut butter, Chex, and powdered sugar, it all blended into a delicious treat.
Muddy Buddies
Measure cereal into a large bowl; set aside.
Add reconstituted peanut butter powder and reconstituted butter powder to chocolate mixture. Stir until mostly smooth. Microwave in 10 second intervals until you can get it as smooth as possible. (Try mashing up the peanut butter before mixing with the chocolate to get a smoother consistency).
Stir in vanilla. Pour mixture over cereal, stirring until evenly coated. Pour into 2-gallon resealable plastic bag.
Add powdered sugar. Seal bag; shake until well coated. Spread on waxed paper to cool. Store in airtight container in refrigerator.
Word of Advice:
The vanilla doesn't need to be reconstituted for this recipe. Simply measure out the powder and add to the mixture. You'll still get the same delicious flavor. Enjoy the game! Looking for more party recipes to try? Check out our
recipe page
for more snacks, treats, and desserts to make.
What's your favorite food storage snack to make? Let us know in the comments