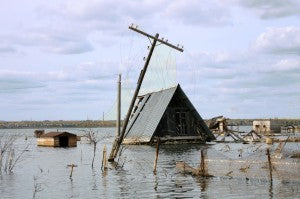 Of all the natural disasters we've talked about during National Severe Weather Preparedness Week, floods are probably the most common. If you think about it, floods can be manmade disasters (like a washing machine overflowing or a pipe bursting) or natural disasters (like overflowing river basins and heavy rainfall). Floods can even be caused by runoff from ice and snow in an area. Recently, snow totals in the eastern and southern United States have dramatically increased. And as snowfall increases, so do snowpack levels for the area. In fact, it's anticipated that in the great lakes region a large snowpack will melt this spring. The runoff from this snow pack will be so large that it could cause flooding in some areas of the region. Since snow totals have been so high in some areas of the country this winter, flooding from snowpacks may be a real possibility, giving us more reason to prepare. Keep an eye out for flooding prospects in your region by checking out NOAA's Spring Flood Outlook page. The water damage floods create calls for extensive clean up like we saw during the
2013 Colorado flood
. And like all natural disasters, the recovery and reconstruction of an area is largely accomplished through community involvement. Here are several sources and personal accounts from flood survivors that can help you learn how to prepare for a flood and how to cope with its aftermath.
Educational Resources
What to do before, during, and after a flood
5 Tips for Walking Around Safely After a Flood
Personal Accounts
Why I Prepare: Lessons from the Colorado Flood (four-part series)
Preparing for a Once in a Lifetime Flood
blog
and
Insight Articles
to learn more about preparing for the variety of disasters that can happen in your area.
Sources
"Snow Ice Cover Will Boost Great Lakes Levels" --http://hosted.ap.org/dynamic/stories/U/US_GREAT_LAKES_WATER_LEVELS?SITE=AP&SECTION=HOME&TEMPLATE=DEFAULT&CTIME=2014-03-05-23-07-43