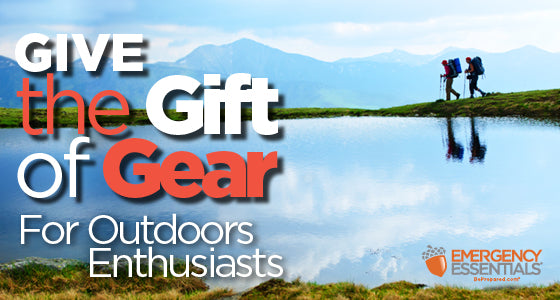 Hello again, from the helpful elves here at Emergency Essentials! We hope you're having a happy holiday gift shopping experience this year—our goal is to make it even easier and more pleasant for you. In that spirit, here's the final installment of our gift guide:
Excellent Ideas for the Outdoor Enthusiast on Your List
Under $25:
Let's start with the basics. We know that there is no such thing ever as too many multifunction tools. Most of the outdoorsy types we know have whole dresser drawers full of pocket knives and Leathermans, and are still (always) on the lookout for the perfect one. Here, then, is s must-have for any such collection: the card-style,
11-function survival tool
. Fits easily into a pocket or wallet, making it one that your giftee can use on the trail or off. And we have to mention this screaming deal. Normally $24.95, the
Military Spec Prismatic Sighting Compass
is on sale this month for only $7.99! Not your run-of-the-mill pocket compass, this fancy-schmancy version is as precise as a GPS, but with no battery to run out on you in the middle of a four-day excursion. And it comes with a neat little carrying case.
Under $50
: Speaking of screaming deals, what would you say if I told you you could get your beloved outdoorsman a four-man tent for under fifty bucks? How about a lightweight, ultra-compact
Twin Peaks Mountain Trails tent
with all the bells and whistles (rain fly, mud mat, etc.)? This is the perfect tent for a multi-day hiking trip, or to keep in your car or pack for unexpected overnighters.
Under $100
: Just because these outdoor nuts willingly sleep on the hard ground in all weather doesn't necessarily mean they like it (okay, some do—guess that's why we call them "nuts"). Give the gift of comfort this year with the
Klymit Static V Luxe Sleeping Pad
. The unique chamber design keeps the sleeper supported and warm through the night, and it rolls up so compact, your camper won't even notice it in his or her pack.
Over $100
: We've saved the best for last. The Grand Poobah of all gifts. The most cherished and most coveted by all who enjoy the cold and wet. Yes, folks, you guessed it. It's the Kelly Kettle. More specifically, we're talking about the
Kelly Kettle Large Stainless Steel Basecamp Combo
, which includes not only the speed-heating kettle and stove, but a pot for cooking, a support grill, and a can of FiredUp fuel and firestarter. This really is our favorite outdoor accessory, and we know the outdoor fanatic on your list will love it. They might even stay inside long enough to thank you. What do you think? Any great ideas for the campers and hikers that we've missed? What are you getting your outdoorsman/woman this year? Or, if you are one, what's at the top of your wish list? --Stacey