Today is the first day of winter. The key word for the season so far has been "unusual." Seriously, count the number of times that word shows up. In the last month and a half, the U.S. has seen a flood of coffee cans, a 115-year-old snow-free record fall, and a combination hurricane and ice storm for Thanksgiving. Yep, it's good to prepare for all sorts of contingencies. That showed in the
first snowstorm
, November 10, which dropped up to 18 inches of snow on the Reno, Nevada metropolitan area, closing schools and leaving more than 36,000 without power. "That one-and-a-half foot amount, that's very unusual for us," National Weather Service meteorologist Jon Mittelstadt told the
Reno Gazette-Journal
. "It's been several years since we've had a good storm." [caption id="attachment_19713" align="alignright" width="300"]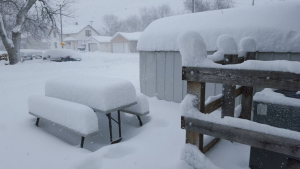 via The Weather Channel[/caption] The second storm November 15-16 dumped more than a foot of snow in mountains from California to Colorado and
caused a whiteout
that closed Interstate 70 for from eastern Denver to the Kansas border. It also triggered
at least 27 tornadoes
in Nebraska, Kansas, Oklahoma, and Texas. In an unusual winter weather problem, the Goodland, Kansas National Weather Service office couldn't investigate Kansas tornadoes because of the I-70 whiteout, according to weather.com. The storm showed how important it is to be prepared when you travel. Have tools, food and clothes for all kinds of inclement weather. Emergency Essentials has car
emergency kits
and portable food and water packages. The next winter storm the weekend before Thanksgiving finally brought snow to the Midwest. It also brought this viral video of a
dog making a snow angel
. Pets need to be prepared too.
Ready.gov
has information about how to prepare pets for emergencies. Emergency Essentials also sells freeze-dried pet food. The Thanksgiving weekend saw another set of unusual U.S. weather events: a simultaneous ice storm and hurricane. Hurricane Sandra formed on November 24 in the eastern Pacific. It was unusually late – only three other eastern Pacific hurricanes have formed later since 1949,
according to weather.com
. It dissipated southwest of the Baja peninsula and never landed. But its remnants caused heavy rain in the peninsula and parts of Mexico and may have added to winter storm Cara in the southeast,
according to weather.com
. [caption id="attachment_19612" align="alignright" width="225"]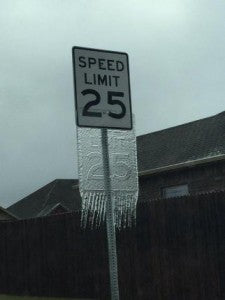 Photo credit: Barbie Jeffers[/caption] November is early for Great Plains ice storms,
according to weather.com
, but Cara's blast of arctic air brought sleet and freezing rain into the plains as far south as Texas. Inch-thick ice on the ground in Oklahoma left
more than 100,000 without power
and created a perfect ice copy of this
speed limit sign
. If possible,
ready.gov
suggests you be prepared for power outages with appropriate backup heating. Emergency Essentials sells small
propane heaters
. Be cautious. Make sure all fuel-burning equipment vents to the outside away from the home. Install carbon monoxide detectors. Be ready to go to a shelter if you lose power for an extended time. While it was freezing the Midwest, Cara's warmer side added to an unusually wet year in the southeast.
According to weather.com
, Dallas broke its record for annual rainfall on Thanksgiving Day. Fort Worth did the same on Black Friday. The
Trinity River flooded
around Dallas when it crested more than 10 feet above flood stage. Weather models suggest uncommon levels of rainfall will be common this season,
thanks in part to El Nino
. If you live in a flood-prone area, be prepared to evacuate and consider flood insurance. El Nino is also bringing a record warm December to the eastern side of the U.S. Buffalo, N.Y., didn't get any snow until December 18,
obliterating by two weeks a record set in 1899
. Usually by this time the city has about 22 inches. Meteorologists are predicting a wet Christmas, but not a white one, for the east. New York has a predicted high temperature of
70 degrees for Christmas day
. In the meantime, cold and snow will continue in the west. Last week, rain, snow, sleet and ice from
winter storm Echo
soaked the west from Minnesota to Arizona and from California to Nebraska. Inclement weather caused hundreds of car crashes, two of which were fatal. A similar winter storm is
hitting the west
now. If you're traveling this week, please be careful. [caption id="attachment_19711" align="alignright" width="300"]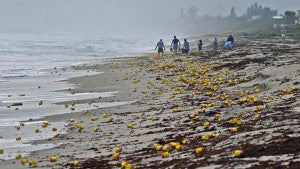 Cans of coffee washed up on shore - via The Weather Network[/caption] Finally, on December 8, the tide washed in an unusual marine Replace:
thousands of cans of coffee
that fell off a container ship.
Other grocery items followed
, from ramen noodles to laundry detergent. There's no preparedness lesson there. Enjoy the "
Christmas coffee
," Florida.
What's going on in your area that makes this an unusual winter?