Hurricane Matthew is heading for Florida, and when it makes landfall, it could bring "massive destruction that we haven't seen in years,"
according to Florida governor Rick Scott
. [caption id="attachment_21064" align="alignright" width="300"]
The predicted path for Hurricane Matthew[/caption] According to CNN, Hurricane Matthew could hit Florida as soon as Thursday night. All of Florida is under a state of emergency in preparation for the hurricane. On Tuesday night, cars lined up at gas stations to fill their tanks before the storm hits. CNN reported one station had cars waiting but no gas to give. Georgia and the Carolinas are also under a state of emergency for at least some counties.
In a press conference
, Scott warns that the waves will be crashing upon rooftops for those near the surge areas, and that everyone in an evacuation zone needs to evacuate immediately. "This storm will kill you," he said. "Time is running out."
The Weather Network
hails Hurricane Matthew as one of the strongest storms to hit Florida in recent decades. [caption id="attachment_21065" align="alignright" width="300"]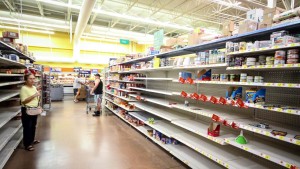 Dried and canned goods were nearly out of stock more than 24 hours before Hurricane Matthew hit Florida - image via The Weather Network[/caption] Hurricane Matthew is a Category 4 storm,
according to Fox News
, and was even a Category 5 for a brief stint and could still reach that strength before landfall. The storm's intensity could still fluctuate as it approaches the mainland, but remember, even Category 1 hurricanes can cause massive damage. As a reference,
Hurricane Sandy was a Category 1
when it came ashore in New Jersey. Hurricane Matthew has already made its way through Haiti and Cuba, wreaking havoc as it stormed by.
According to The Weather Network
, some areas were smashed by 24-foot waves, not to mention "high winds, strong storm surge and torrential downpour." Twitter showed the world the immense destruction that some areas were afflicted with.
Complete destruction in Baracoa, Cuba from a combination of extreme wind and storm surge. Sad situation here. #HurricaneMatthew pic.twitter.com/JgUtW0vGjf

— Mike Theiss (@MikeTheiss) October 5, 2016
In Haiti, Fidele Nicolas told AP that Hurricane Matthew was the worst he's seen in his lifetime. Where Nicolas lives, many homes were severely damaged and others washed away in the raging floods. [caption id="attachment_21066" align="alignright" width="300"]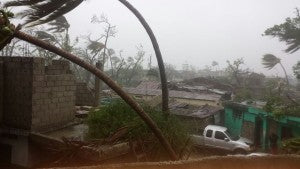 Hurricane Matthew makes landfall in Haiti - via Fox61[/caption] Hurricane Matthew has brought about
the largest humanitarian crisis in Haiti
since the 2010 earthquake, which left more than 200,000 people dead. Thanks to Hurricane Matthew, initial reports suggest that more than 10,000 people are living in shelters, and hospitals are even running out of clean water. Thursday could be the earliest the mainland sees Hurricane Matthew. Since the time of its arrival is fast approaching, the time for preparation has all but passed.
How did you prepare to meet Hurricane Matthew? What would you have done differently? Let us know in the comments!