Check out our July Group Specials—there are deals here you won't want to miss. Not sure what the group program is? Read more at the bottom of the post—after you check out the specials, of course!
Provident Pantry Freeze-Dried White Chicken Chunks with Smoke Flavor
Fully-cooked, freeze-dried smoky chunks of white chicken are ready to reconstitute and use in salads, pasta, soups, stir-fry, or any recipe that calls for chicken. The smoky flavor would be especially good with barbecue sauce or in Mexican dishes. An order of at least 12 #10 cans gives you the price of $24.00 per can, a 44% discount off the regular price of $42.95.
ASAP Silver Solution
Silver is a natural antibiotic, and this brand has a patented process that turns the tiny, bacteria-killing silver particles into a safe, highly-effective liquid containing 10 ppm. It boosts the immune system, and is great as a spray for sore throats or to help a wound heal. Each 8-oz bottle is $10.00 on Group Special when your order 10 or more—a 33% savings over the regular price of $14.95. A great addition to your medicine cabinet or first-aid kit!

Dehydrated Cabbage Flakes
This brand-new product adds the fresh flavor and super nutrition of cabbage to soups, stews, casseroles, stir-fry, or coleslaw. (Each serving provides 100% of your daily requirement of Vitamin C.) Order 12, and each #10 can is just $12.00, a savings of 36% over the regular price of $18.95.
2-Person Mobile Hygiene Kit
Convenient travel-sized items for two people. Includes soap, shampoo, lotion, deodorant, body wash, hand sanitizer, Fresh and Go travel toothbrushes (paste included), Aqua Towels and more. This hygiene kit is great for travel or a staple for your emergency "bug-out" bag. Order 10 or more and you'll get them for $8.00 each, a whopping 61% discount over the regular price of $19.95!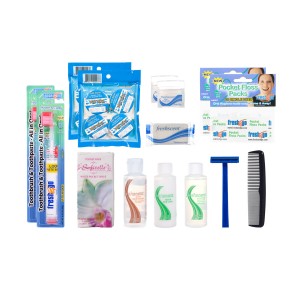 What is the Group Program?
Our Group Program is a great way to build your long-term supply of food and other necessities and help others do the same at a discounted price! Simply get together a group of people—family, friends, neighbors, church, club, co-workers, etc.—who are interested in building an emergency supply, order together, and take advantage of the monthly Group Specials on page 50 of each catalog.
What are the advantages?
Significantly discounted prices on great items
Free shipping on orders that meet one of the minimum group item requirements (free shipping only in the 48 contiguous U.S. states)
The option of putting a group order on hold to give people time to decide and pay by the 25th of the month. This assures that those items placed on hold early will be available (with such good discounts, group items can often sell out).
For further information
visit our website at
www.BePrepared.com/group
. If you're interested in becoming a Group Leader, call 1-800-999-1863 or email
[email protected]
.