[caption id="attachment_18928" align="alignright" width="300"]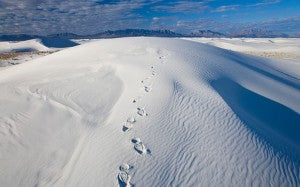 White Sands National Monument, New Mexico (The Telegraph)[/caption] Dehydration kills, fast. A French couple died this month in hours in White Sands National Monument because they ran out of water. They and their son only took two half-liter water bottles on their hike in the 100-plus degree desert, instead of the four liters per person recommended. Their son survived because his parents gave him two sips for every one they took,
according to news reports
. It just goes to show that a little water can go a long way. On average, people need about three quarters of a gallon of fluid daily according to ready.gov. Some need more: children, nursing mothers, sick people, those who are exercising, and people in a warm climate. In very hot temperatures, water needs can double. If you keep your head, you can get water in many ways. Here are some of them, from easiest to hardest.
Store water
The easiest way to have water after an emergency is to store it before an emergency.
The Red Cross recommends
a gallon per person, per day, for at least three days. Commercially bottled water is the safest and most reliable water for storage. It's easy to obtain, easy to store and lasts longer than home-bottled water. Just don't open it and be aware of the expiration dates on the bottles. [caption id="attachment_18713" align="alignleft" width="205"]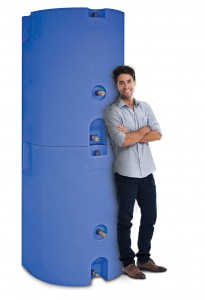 More than just a little water![/caption] Home-bottled water can be less expensive and perhaps provide a way to recycle old soft drink bottles. We even have
food-grade water storage containers
, which makes storing water easy. If you want to re-use old bottles, the Red Cross says don't use milk or fruit juice containers. Milk proteins and fruit sugars can't be completely removed. Don't use cardboard or glass containers.
To bottle water at home
, first clean bottles with dish soap and rinse completely. Sanitize soft drink bottles by swishing around a solution of 1 teaspoon of non-scented liquid chlorine bleach to 1 quart of water. After sanitizing the bottles, rinse them completely. Second, fill each bottle with tap water. If your water comes from a well or if your utility doesn't treat it with chlorine, add two drops of non-scented liquid chlorine bleach to each gallon of water. Check the water after a half hour. If it doesn't have a slight bleach smell, re-treat it and wait 15 minutes. Or, you can use water purification tablets, such as the Katadyn Micropur Purification Tablets. They work best when water is at least 68 degrees, so leave very cold water out to warm,
according to WikiHow
. Use the original cap on the container. Close it tightly, and write the date on the outside of the container. Store it in a cool, dry place. Replace home-bottled water every six months.
Use hidden water sources in the home
If a disaster takes place while you're at home, you have some hidden safe water sources: melted ice cubes and water drained from pipes and the hot water heater, according to ready.gov. Do not drink water from toilet flush tanks or bowls, radiators, water beds or swimming pools. First, know how to turn off water mains. Broken water and sewage lines can contaminate water coming into your home. To drain pipes, turn on your faucet to the highest level to let air into pipes then get water from the lowest faucet in the home. To get water from the water heater, make sure the electricity or gas is off, and open the drain at the bottom of the tank. Turn off the water intake valve in the tank and turn on the hot water faucet. Once clean water is restored, refill the tank before turning the gas or electricity on.
Purify water from impure sources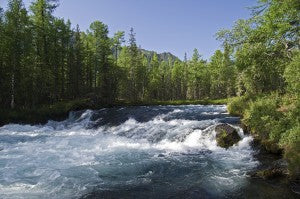 If you're out of clean water, the Red Cross says you can treat water from precipitation, streams, or rivers, ponds, lakes, and underground springs. Don't use untreated water. It can contain deadly germs. Don't use flood water or water with floating material, an odor, or a dark color. Only use salt water if you distill it first. For those of you on the coast, this could be a good source of water if you have a desalinator. First, let suspended particles settle to the bottom of a container or strain water through coffee filters or layers of clean cloth. Then use whatever method you choose: boiling, purification tablets or bleach, filters, UV pens, distiller, or a combination of methods. For a wide range of purification tools,
check out our water purification options
. If you're concerned about being short of water, follow these rules from
survival expert Tom Brown, Jr. in Mother Earth News
. Don't drink carbonated beverages or alcohol. They cause dehydration. So do urine and salt water unless they've been distilled. Don't eat if you don't have water to drink with it. Limit activity to limit perspiration. However, drink what water you have. People have died of thirst with full canteens. "Try to store as much water as you can in your stomach," Brown wrote. Because, as we've seen from the story about the French family, a little water can still go a long way.
What does your water preparedness look like? Let us know in the comments below!