Isolated by Choice
Imaging living alone in the wilderness – no Internet, no power, and no modern day conveniences. You would be completely on your own, left to your own devices. Oh, and you're also 16 years old. [caption id="attachment_20545" align="alignright" width="300"]
Zeki Basan, living alone in the Isle of Skye - photo courtesy of The Guardian[/caption]
This is the life of a young man
on the Isle of Skye across the pond in Scotland. Taught by his mother at a young age how to cope with the many dangers in the wild, he has chosen the life of solitude as a good opportunity to practice while attending
the School of Adventure Studies
. He makes his own food, tans his own animal hides, and otherwise takes care of himself. When he's done with school, he plans on moving back to his mother's house, but until then, he'll be living large on the land without another soul in sight. In this day and age, you just don't hear about people living like this, especially youth. There is something to be said about outdoor preparedness. In this young man's case, his living was helping him in his outdoor studies.
Acquire a Particular Set of Skills
Outdoor survival skills are an important skill set to acquire. For starters, you can
use those skills
to help your family in an emergency situation should the need arise. In our world, anything could happen at any time. Earthquakes, power grid failure, and other unexpected disasters could throw our world on its head, forcing us to fend for ourselves. Having survival skills can only be a boon in such situations.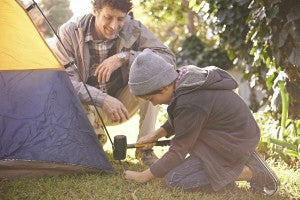 Take time to go camping. Know how to set up your tent. While you're out, practice making impromptu shelters from branches and other natural resources. Setting up a shelter is an essential skill to have. If you're ever forced out of your home – or lost in the wild – a shelter can keep the harsh sun off of you as well as keep you out of the rain and other elements. While out camping, practice making a fire –
without matches
or some form of fire starter. If you're left to your own devices, you may not have lighter fluid to dowse your wood in. There are plenty of outdoor survival techniques to learn, from filtering your own water, cooking over open flame, and first aid. While these skills are important to learn, there are still modern conveniences that can make your outdoor survival much more comfortable.
Live Well in the Wild
Power generators
can be juiced up through solar panels, allowing you to have charge devices and flashlights, charge lanterns, or power up other things that will make your life easier. Smaller generators and other portable power packs may not be able to power as many things for as long, but they are certainly useful for camping and emergency situations. Unless your soul purpose in living outdoors is to practice survival skills 24/7, then there is no reason why you couldn't have a little extra comfort along for the ride. But before you go ahead and stock up on the comfort items, make sure you have the necessary emergency items to keep you alive, such as water, food, and shelter. Living in the wild completely alone isn't for everyone, but there are some things we can learn from it. Spending at least some time in the great outdoors can help us prepared for all sorts of emergencies and teach us useful skills for when life takes an unexpected turn.