We strive to bring you emergency food that will stand the tests of time, in quality, taste, and health. So when we were looking for a company to partner with, these high standards played a key role in our selection of Mountain House as our freeze-dried food partner.
A Lasting Legacy
Mountain House has been creating delicious freeze-dried meals
for nearly 50 years
. This legacy of excellence began during the Vietnam War when the United States military requested better tasting, longer lasting, and lighter food than the K and C rations they were currently using. Mountain House (known as Oregon Freeze Dry at the time) was awarded the opportunity to be the military's supplier, and has been ever since. For more details on how they came into being, check out their video below.
Proven Quality
Creating freeze-dried food for almost half a century means Mountain House has been around long enough to actually test their 25-year-old food that has aged in real-time, as opposed to accelerated lab tests done by other companies. This makes their claim of their food having up to a 25 year shelf-life a proven fact. But what about food older than 25 years, you ask? According to Mountain House,
it's still good
! The flavor might change a little bit, but it will still be safe to eat. There's more that goes with this proven shelf life, however. Mountain House has what they call a "
Taste Guarantee
," meaning if your food doesn't taste as good as it would have the day it was packed by 25 years, they will replace your food for you, no questions asked. That's a confidence that can only come from decades of quality production.
3rd Party Testing
Mountain House doesn't just believe you will love their food; they
know
you will. By taking advantage of
third-party testers
, Mountain House has evidence to back up their claims that people really do prefer their food over that of other brands. With our quest for the best in freeze-dried food, it's little wonder we're the largest suppliers of Mountain House around. We carry every Mountain House product they produce, and sell them at the lowest prices anywhere! [caption id="attachment_20139" align="aligncenter" width="549"]
Mountain House Overall Liking Summary for Chili Mac via Oregon State University[/caption]
Mountain House has Variety
Emergency food doesn't just have to be for storing and never eating. Mountain House expects you to eat their food, whether in an emergency, while hiking or camping, or just as an easy-to-fix dinnertime meal. They want you to enjoy their recipes, and they've provided you with many options to do just that. [caption id="attachment_20142" align="alignright" width="300"]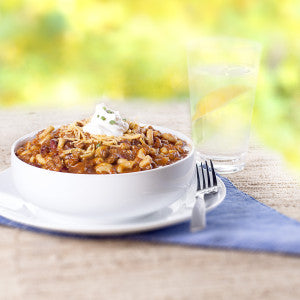 Mountain House Chili Mac[/caption]
Breakfast, Lunch, Dinner, and Meats
Mountain House has a plethora of meal options from breakfast dishes, lunch and dinner entrees, and meats. From
scrambled eggs
and
breakfast skill
ets
for breakfast to
chili
mac
and
beef stew
for lunch and dinner, your options for meals stay as fresh as the food itself. With cans of meat – such as chicken or beef – you can add extra bulk to your meals or use them in your own recipes. These freeze-dried entrées are prepared by professional chefs and are then freeze-dried so when they are reconstituted they revert back to the ready-to-serve meal they started out as. Boring and tasteless camping and emergency food is a thing of the past. Mountain House gives you the power to eat what you want, wherever you are. You can Replace every Mountain House option by
clicking here
.
Sides and Desserts
A meal just isn't complete without a side and dessert. Sides help round out your meals with vegetables and fruit, and Mountain House's delicious desserts really are the cherry on top. Choose from
raspberry crumble
or freeze-dried ice cream (just to name a few) to really turn your outdoor or emergency meals into something special. [caption id="attachment_20146" align="aligncenter" width="464"]

Mountain House Raspberry Crumble[/caption]
Buckets and Kits
The Mountain House buckets and emergency meal kits are easy to carry and easy to store. Depending on the bucket, you get either 12 or 16 Mountain House food pouches. As for kits, you can combine various kits to create multiple combinations of meal options. For example, the 2-Day case of emergency food has different food options than the 5-Day Emergency Food Supply, and the 3-day is different from the 4-Day, as well as the others. So when it comes to having a variety of meals, mix it up with these Just-In-Case Emergency Food Supplies. Combine the 5-Day case with a 2-Day case for 7 days of Mountain House meals. Combine others for even more days' worth of food! It's up to you how you mix it up, but you can guarantee a varied supply of your favorite meals.
Pouches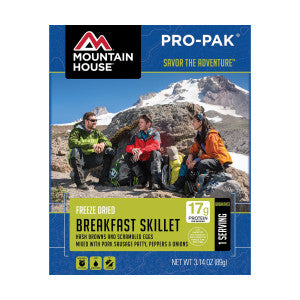 Each pouch has approximately 2.5 servings full of delicious Mountain House food. One of the perks of pouches is their small, personal-sized contents. If you're out on a campout, you may not want to haul around a #10 can of your favorite entrée. Pouches allow you to pack your food in convenience. The pouches can also be used to reconstitute the contents without even having pour it into a separate container. This makes it so you don't have to carry plates around, either. When it comes to quality and convenience, these Mountain House pouches definitely deliver. After all is said and done, however, the most important thing about Mountain House meals is whether or not you like them. Of course, their track record in creating mouth-watering meals is above expectation, so we're confident you'll love them, too. Throughout the entire month of March, we're throwing out all the stops to give you some of the best deals ever on all things Mountain House. Visit our Mountain House page
by clicking here
and take advantage of some great deals on amazing freeze-dried food!