"It's going to be pretty tender fire conditions out there." This fireworks season, that's the fear not just for this Bozeman, MT fire chief, but for many more officials throughout the country. In many states, extended periods of heat and drought have made conditions very unfavorable for Fourth of July fireworks. With fireworks, there's always a risk of starting a fire. Because of the heat and lack of moisture, that threat is even worse.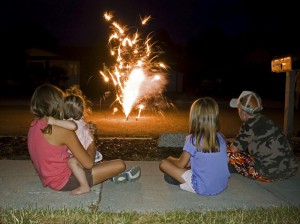 Although you may have a tradition of having your own firework show, that may not be the best idea this year. According to one fire prevention specialist, "the best way to avoid the risk of starting a wildfire this holiday weekend is to attend public fireworks displays and leave the lighting to the professionals." I know, I know. Where's the fun in that, right? Well, part of the fun could come in not burning down your entire state (or at least your neighborhood). Even fireworks that you might think are safe can be a huge danger to the dry grass and trees. For example, did you know that sparklers can burn at 2,000°F? That's hot enough to melt gold! So uh…try and keep those away from dry tinder, OK? Thanks.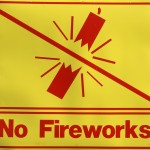 In order to prevent wide-spread devastation, many counties – and even a few states – have imposed a ban on fireworks. Some Oregon towns have decided to do away with their municipality firework shows altogether. If that thought saddens you (which it very well could), you can take solace in the fact that by foregoing such activities, you are saying "Thanks, America" by not burning it up. And America thanks you, too. If you don't think that's a very good reason, then let's go back to Oregon for a moment. The
spokesman for Portland Fire & Rescue
gives a very compelling reason for these bans. In the case of Oregon, "on the weekend before the Fourth of July last year, Portland firefighters battled three fires. This past weekend, the count was 80." Yeah…that's quite a jump in number there. So instead of adding to that number, be prepared to cut back on your firework usage this Fourth of July. Even though it may seem like this Independence Day restricts your independence in the use of explosives, it's for a good cause. However, if you
are
able to still use fireworks (hooray!), please take precautions to avoid setting fire to your city. Some good rules to follow are:
Always soak your fireworks before tossing them in the trash
Store exhausted fireworks in a bucket of water
Keep a source of water nearby (see above)
Don't point or aim fireworks at homes
Keep fireworks away from grass, brush, leaves, and anything else that could potentially catch fire (such as your home – see above)
Another good rule of thumb is to always use common sense. Before you start lighting off fireworks, ask yourself, "Is there anything within close proximity that could potentially start a fire if this firework goes off in an unexpected direction?". Because that happens, too.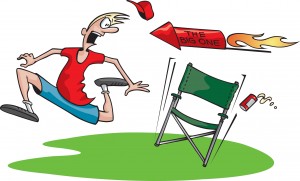 And while you're at it, practice firework safety for yourself, too. It's easy to get caught up in the excitement of things blowing up and making loud noises and spewing out pretty colors and stuff, but that doesn't mean you can't do that and still be safe. I say this because my sister had the unfortunate experience of having a firework fly into her face. Fortunately, it was a small one and it didn't explode on impact. Unfortunately, it still exploded just after it ricocheted off, damaging her teeth and burning her face somewhat. That was about seven years ago, and after getting braces (for the second time in her life), she's back to normal. Do you think she expected that to ever happen? I doubt it. And yet it did. So while you're keeping the grass and trees safe, keep yourselves safe as well. And on that fun note, I hope you all have a wonderfully exciting Fourth of July and enjoy the festivities wherever you are! Go out and have a blast (literally)!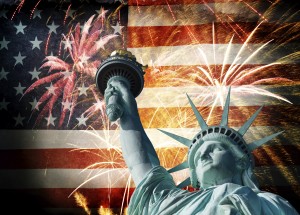 How do you celebrate the Fourth of July? Let us know in comments!