I received this guest post submission a couple of weeks ago, and I've been looking forward to sharing it with you ever since. It was submitted by Kate from Missouri, and I have to say, I can't wait to put these recipes to use. I've been making wheat berries since Don Pectol taught me the easiest way to use wheat, and I think I can use the same method to cook some oat groats for these recipes.
--Sarah (aka, Urban Girl)
Oatmeal is a staple storage food for many families, and for good reason. It's easy to prepare, inexpensive, has great nutritional value, and lasts for years when stored properly. It is also extremely versatile: oatmeal is mild-tasting enough to act as a base for hundreds of other foods. Maintaining variety in your meals is an important part of your mental health and overall happiness during a survival situation.
Here are some of my favorite ways to enjoy a big bowl of oatmeal, adapted to include foods that you probably already have in your storage. Most of these ingredients are available on the Emergency Essentials web site.
Note from the Editor: These recipes will all be equally delicious using whole
Oat Groats
if you don't have a mill to turn your stored oats into oatmeal. Simply cook them in a rice cooker or on the stovetop as you would rice, with 3 parts water to 1 part Oat Groats. Our notes are included in italics below.
Apple cinnamon
- add some dehydrated apple slices and a dash of cinnamon sugar to your bowl of oatmeal. It tastes like those instant packets you can buy from the store...but BETTER. Use cinnamon apple chips if you want an extra punch of flavor.
Brown sugar oats
- this "recipe" is as simple as it sounds. Drop a big spoonful of brown sugar in the middle of your oatmeal and let it dissolve before eating.
Creamy oats and honey
- cook your oats with milk instead of water. Dissolve an additional tablespoon of milk powder into 1/4 cup of milk, then heat this "cream" until hot. Pour over your bowl of oatmeal, and add a drizzle of honey.
Chocolate peanut butter
- stir a packet of MRE chocolate peanut butter into your bowl of oatmeal. OR, if you want a

very

long-term storage option: mix together a scoop of powdered peanut butter, a tablespoon of cocoa powder, and a tablespoon of white sugar. Stir into your oatmeal. This one is a hit with kids!
Tropical oats
- Rehydrate a few pieces each of freeze dried pineapple, banana, mango, and orange. Stir into cooked oats, and top with a sprinkle of brown sugar.
Banana bread oats*
- rehydrate 1/4 cup of freeze-dried banana slices. Mash them with a fork, and mix with 1/2 cup dry oats, 1tsp cinnamon, 2tsp white sugar, and 2/3 cup milk. Cook as usual.
Mock Muesli*
- Muesli is a breakfast food that is very popular in Europe. Mix together 1/2 cup dry oats, 2Tbsp raisins, and 1/2 Tbsp brown sugar. Add 1/2 cup of milk, and eat like cold cereal.
*
To adjust for oat groats, simply add the same ingredients to the cooked oats; start with 1/3 cup milk and add more as needed to achieve your desired consistency.
Homemade granola**
- mix together 2 cups of dry oats, 1/2 cup raisins, 3 Tablespoons brown sugar, and a dash of salt. In a separate bowl, mix together 1/3 cup oil and 1/3 cup honey. Pour liquids over the oat mixture, and stir well. I usually bake the granola at 200 degrees for an hour and a half, but you could try using an alternative method. Campfire granola sounds pretty cool! Eat with cold milk, or dry for an on-the-go snack.
**This recipe is best with oatmeal, not groats.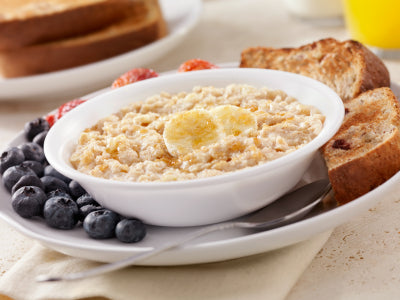 These are just ideas for oats you can eat in a bowl. You can also make pancakes, muffins, cookies, and breads from my favorite grain! Oats can be ground into flour and used in conjunction with wheat flour in many recipes. As an example, here's my basic oatmeal pancake recipe (best made with oatmeal, not groats):
1/2 cup milk, reconstituted from powder
1 egg, reconstituted from powder
Soak oats in 1/2 cup milk while you prepare the dry ingredients. Mix oat flour, brown sugar, baking powder, salt, and vanilla powder in a medium bowl. Stir the oats and milk into your flour mixture, and add the reconstituted egg. Place an oiled skillet over medium heat. Pour pancakes, and flip to brown both sides. Serve with honey or brown sugar.
Try some variations! Mix dried fruits into the batter, use cocoa powder to make chocolate pancakes, boil some sugar to make homemade syrup….you're only limited by your imagination.
Storing oatmeal and a few of these add-ins is an easy way to ensure that your food storage won't ever get boring. I have been eating oatmeal for breakfast every morning for YEARS, and I still look forward to them because I change the ingredients so often. Experiment with your favorite flavor combinations now so that you can stock up, then enjoy the peace of mind that comes with knowing that you have months of inexpensive breakfasts stored in your pantry.