At the beginning of 2013, I had very little in the way of preparedness gear or food storage. But I also had (and still have) school loans to pay, so I couldn't budget too much toward building my supply each month.
After a year of saving all my spare change, the small bills I had in my wallet at the end of the week, and (after I got smart), setting $20 or more aside at the beginning of the month (with the understanding that if I needed it for something I could use it), I was able to save over $450 to spend on survival gear and emergency food! Let's check out my 2013 year in review. Here's a list of everything I purchased this past year. I mostly shopped sales and group items, and the total amount I (and those who gave me gifts) spent was right around $457.11. For all of this goodness :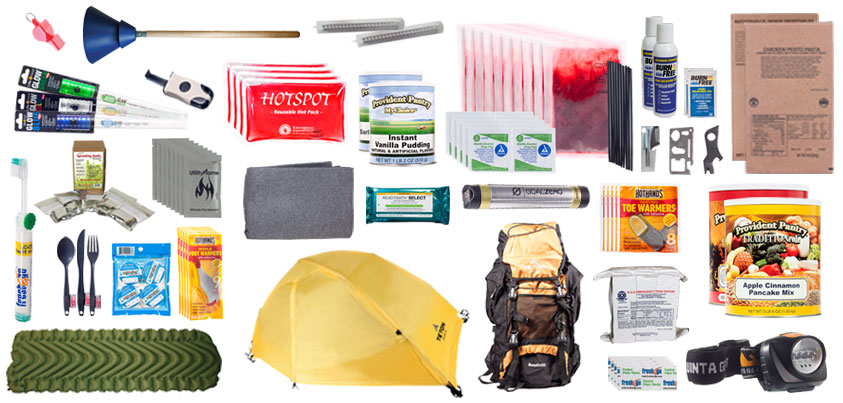 The picture might not look like it includes that much stuff, but it does. Here it is as a list (you can Replace these items at
beprepared.com
):
1- 3600-Calorie SOS Bar

2- BurnFree single use packets
2- ReadyBath wipes
1- Aqua Towel 4 pack
2- Fresh & Go toothbrush
1- Grey GSI Fork
1- Grey GSI Knife
1- Grey GSI Spoon
1- LED Glow Stick Combo
4- HotSpot
4- Fresh & Go Floss
1- high Uinta Night Sight Headlamp
1- MRE Garlic Herb Chicken
1- MRE Ratatouille
1- 10 pack Hydropack pouches
1- 8 pack Utility Flame Gel Packets
1- #10 can Mini Meatballs (cooked)
2- 4 oz. bottle of BurnFree
1- MC can of Vanilla Pudding
1- Static V Sleeping Pad
1- Teton 1-Man Quick Tent
1- Goal Zero Switch 8 Charger
2- Splinter Out 10-pack
1- 11-Function Survival Tool
1- Wool Blend Blanket
1- P-38 Can Opener
1- MyChoice BBQ Sauce Mix
1- #10 can of Apple Cinnamon Pancake Mix
1- Fox 40 Classic Whistle
1- Mobile Washer
1- Organic Sprouting Seed Combo
3- Sparkie Fire Starter
1- Gerber Shard
1- Teton Scout Backpack
5- Adhesive Toe Warmers
5- Insole Warmers
So, if you think your budget is too small to get prepared, think again. Even $5 or $10 a month can get you started with some of the most basic items. The main things I suggest you keep in mind are:
Keep making progress—even a little at a time is better than nothing
Work with a plan in mind so you can track which needs you're meeting and those that still need to be addressed (I use a spreadsheet)
Start with basic gear and upgrade when you can.
If you're not on a tight budget, you can get a lot of your preparedness needs taken care of in no time at all, and at great prices, too. Emergency Essentials offers a Low-Price Guarantee, and we're here to help answer any and all of your questions. Reach out to one of our preparedness consultants by phone or in our stores for customized suggestions to meet your needs. If you're looking to make a big dent in your preparedness needs pretty quickly, then this month there's a great option for you. Our year supplies are always a great value, and this month we've taken our Gourmet 2000 supply one step further and added a bunch of gear to it… for $100 LESS than the normal price. That's right. Check out our Gourmet Plus Supply for all the details. I'll be back with more Pennies for Prepping in 2014, plus some other goals and projects. But for now, this is Urban Girl… signing off.