I've been thinking about knives lately. I really don't know much about them, myself. Kitchen knives, a good utility knife for projects around the house, and an X-acto knife for craft projects are about the extent of my experience. So when I decided to buy a knife for my survival gear, I wasn't really sure what to look for. I wasn't at work when I made the decision, so I had to rely on my own devices to get the information I needed (otherwise I would have just asked my coworkers, since they're preparedness experts). I found several helpful articles, but
this one
from The Art of Manliness, written by Creek Stewart of Willow Haven Outdoor, was my favorite. Stewart focuses on six features of a good survival knife:
Size
Fixed Blade
Full Tang
Sharp Pointed Tip
Single-Edge Blade with Flat-Ground Spine
Solid Pommel
For more detail on each of these tips, go check out
the original article
. Based on his recommendations, I bought two CRKT knives:
The CRKT Onion Shenanigan Tanto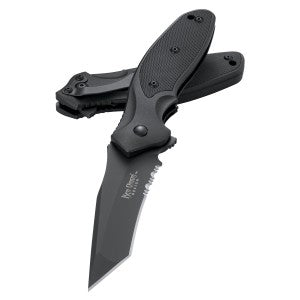 And the CRKT Ultima 5" – Black Blade, Veff Como Edge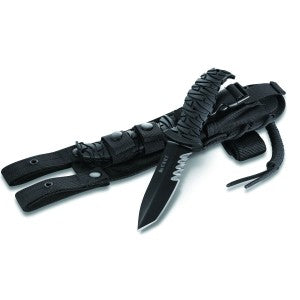 I wanted the flexibility of having a folder and a fixed blade, so I'm using the Shenanigan as my EDC blade, and the Ultima is going in my emergency survival kit. One of our product experts, Joel, has this to say about Emergency Essentials carrying CRKT knives and tools:
"CRKT has the best selection of every day carry (EDC), tactical, and survival knives. I love the variety and ingenious design of their tools and knives. CRKT is built on innovation from the best designers and quality forged from the finest material."
Check out my knife selections by clicking the links or images above, or take a look at Emergency Essentials' full selection of survival knives
here
. Do you have any other features to add to Stewart's list? What knife or knives do you use in your bug-out bag or everyday carry? Have you ever had to rely on your knife to save your life? Share your stories and your favorite knives in the comments.